Mechanical Engineering Students Earn Honors for Academics, Technical Merits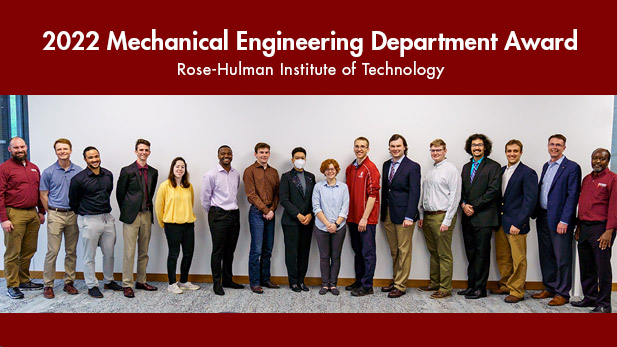 More than 25 students were recognized late this spring with honors and scholarships from the Department of Mechanical Engineering for academic success, technical merits, and involvement in research and extracurricular activities supporting Rose-Hulman and the department.
Michael Hall earned the Cummins Inc. Award as this year's most outstanding graduating senior, as selected by department faculty. The native of Saint Paul, Minnesota, earned the Institute's distinguished Heminway Medal at Commencement after graduating with a perfect 4.0 grade-point average. He was a member of the Rover Robotics and Ultimate Frisbee student organizations, Tau Beta Pi engineering academic honor society, and Pi Kappa Alpha fraternity. Hall plans to begin graduate school studies this at the University of Michigan.
Ben Warrick was presented the Senior Mechanical Engineering Student Leadership Award for leadership in extracurricular activities, helping transform student organizations, and demonstrated integrity and professionalism. The Williamsport, Indiana, native is now a manufacturing engineer with Caterpillar Inc. in Lafayette, Indiana.
Greg Ballen and Andrew Hubbard received the Robert Steinhauser Award as the most outstanding junior mechanical engineering majors, as selected by department faculty. Ballen, from Saint Paul, Minnesota, has been a leader with the Rose-Hulman Climbing Club, has been a member of the Residence Hall Association, and an active volunteer for community and campus service projects. Hubbard is from Brighton, Michigan. The award honors Steinhauser's legacy as a Rose-Hulman alum and 41-year career as a distinguished professor and department head. 
Ethan Jones of Newburgh, Indiana, earned the Edward A. MacLean Award as the junior who has demonstrated academic success in mechanics courses while showing academic improvement and being an active participant in extracurricular activities throughout college. MacLean was a professor and head of the mechanical and civil engineering department from 1937-62.
Sam Betts earned the most outstanding sophomore award, while Emily Lopane was named the outstanding first-year student in the department. Betts is a member of the inaugural Noblitt Scholars Class of 2024, is a leader of the Design, Build and Fly student competition team and Astronomical Society group, and member of the Rocketry Club, Engineers for a Sustainable World, Society of Women Engineers, Climbing Club, Rose Tech Radio Club, and String Orchestra student performance group. She also has been an intern at Rose-Hulman Ventures, helping develop innovative projects for real-world clients.
Receiving scholarships to support their futures as mechanical engineers were 2022 graduates Charlie Hahm of Firestone, Colorado, and Riley O'Connell of South Bend, Indiana, awarded Darrell Gibson Scholarships. Gibson was a mechanical engineering professor for 43 years before retiring in 2015.
Earning John D. Winters Scholarships were Alex Chen of Lakewood, Colorado; Patrick Hottle of Lake Station, Indiana; Naomi Reyes of Terre Haute, and Gage Smith of Austin, Texas. Winters was a 1949 Rose Polytechnic Institute graduate who had a 40-year career with Caterpillar Inc., retiring as vice president and general manager of the company's engine division. 
Presented Mark and Hui Suk Schulz Scholarships were Kiana Martin of Portage, Michigan; Andrew Nichols of Cypress, Texas; Jacob Oblazny of Naperville, Illinois; Kirk Preston II of Crowley, Texas; Harman Singh of Williamstown, New Jersey; and Chaikou Sow of Camby, Indiana. Schulz is a 1976 alumnus who has had a successful career as a field engineering with Babcock & Wilcox Company.
Recognized as members of the department's Student Advisory Board for the 2021-22 school year were Jayla Campbell of Indianapolis; Sarah Cunniff of Saint Paul, Minnesota; Lucas Foote of Midland, Michigan; Ethan Rogers of Cory, Indiana; Caleb Yankey of Floyds Knobs, Indiana; Yunpu Zhang of Changchun, China; and Lopane.