Career, Summer Opportunities Blooming for Rose-Hulman Students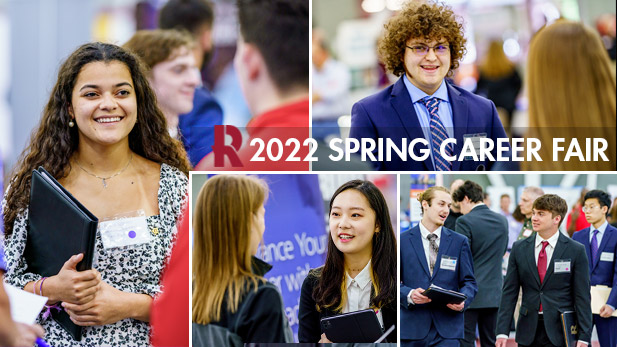 Just like the flowers that bring beauty to each spring, employment and internship opportunities are blooming for Rose-Hulman students across all academic majors. That's why the college has sown a national reputation for career and internship placements – key elements sprouting Best Value College recognition and a strong return on investment. 
The prospects for students in all classes were enhanced when the April 20 Spring Career Fair brought more than 110 companies from throughout the country to campus in search of candidates to fill positions that will bring problem-solving skills that meet their current needs and help them remain viable in a competitive and ever-changing workplace.
Companies attending covered such technology sectors as manufacturing, semiconductor and microsystems, software, infrastructure construction, health care and medical devices, research and development, steel and petroleum production, and consulting. This follows 150 companies recruiting on campus during the fall career fair, several others attending a winter virtual event, and the thousands of national opportunities listed on the Rose-Hulman Handshake job postings website.
Sophomore mechanical engineering major Ryan Cuda is preparing to spend the summer as a technology intern at GE Appliances in his hometown of Louisville. This comes after work experiences at Life Safety Services after completing his first year of studies.
"I wanted to start building my resume right away. So early in my studies, I started visiting the Office of Career Services nearly every day in search of available opportunities," he said. "After getting to know me and my career interests and working with me on my resume and interview skills, career services' staff started passing along contact information about available internships. The office was a great resource for me and others. Now, I can't wait until summer to see how my skills stack up in a work setting."
And Cuda is helping pave the way for classmates and others to find similar opportunities as a career services' peer adviser. 
"I'm passing along some of the tricks that I've learned and applied along the way," he said. "If they worked for me, they can also work for others."
Meanwhile, second-year mechanical engineering student Joshua Erpenbeck will have an internship in structural design and analysis this summer at Caterpillar Inc.'s plant in Clayton, North Carolina. It will be like an experience last year at the U.S. Department of Energy's Los Alamos National Laboratory in Albuquerque, New Mexico. 
"The knowledge and experiences that I have gained in just two years (at Rose-Hulman) have shaped me well for this next challenge," he said. "Before Rose-Hulman, things in school had been rather easy for me. I've had to meet challenges academically and personally. I'm now a much stronger person. I can't wait to see what's ahead." 
At least 94% of Rose-Hulman students complete at least one internship, co-op, or research experience during their college careers, with 70% having two experiences, according to the Office of Career Services. Internships usually cover the summer, but also can last during any academic quarter; co-ops, extending for a long period, offer more work experiences. Students are paid for both assignments, with many also providing housing allowances or living arrangements.    
GE Appliances came to the Spring Career Fair in search of bringing quality Rose-Hulman students, like Ryan Cuda, into training programs, stated Nick Okruch, the company's technical director of 3D technology. They would add to several Rose-Hulman students currently working as interns/co-ops assignments at the company's production operations in Louisville.  
"We would like more, if they meet our criteria and specific needs, because we like the skills and work ethic that Rose-Hulman students bring to any job setting," said Okruch, a 1987 mechanical engineering alumnus. "We consider (internships and co-ops) extended job interviews. We get to see how the students adapt to different work environments and how they work in a team setting, while getting a good look at the abilities that they could bring to us. And, if possible, we hope to have them for more than one year. Usually after working with us for an extended period, we extend offers to them to stay with us after graduation."
That's what happened for graduating chemical engineering major Peyton Tracy. He completed multiple summer internships with International Paper Company before accepting a full-time work opportunity. He will be a process engineer in IP's Wilmington, North Carolina plant (where he worked last summer).
He states, "I have been able to work in different areas of company and learn about the company's culture and how it helps employees grow. It was a win-win situation on both sides. They got to see what I could do and I got to see how my skills could fit into the company."
Wyatt Morris, a graduating mechanical engineering and optical engineering double major, will be returning to work as a systems engineer at Ball Aerospace & Technologies after spending an internship last summer with the Boulder, Colorado, company.
"After my summer internship, I know how a systems engineer fits into the company and contributes to the entire operation," Morris said. "Also, (the internship) helped bring new skills back to my classes, especially my senior capstone group project. I knew how every member was important to the group's success."
Surveys conducted by the Princeton Review of students attending more than 650 schools gave Rose-Hulman a No. 1 ranking among private colleges for providing the Best Value Colleges for Internships. The institute placed No. 6 for Best Value Colleges for Career Placement, based upon student ratings and PayScale.com's alumni salary levels and job satisfaction.