Career, Summer Opportunities Adding Up for Students
Thursday, February 03, 2022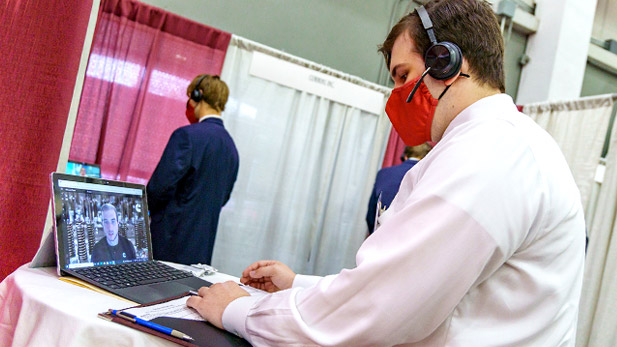 Rose-Hulman students have hit the home stretch of the 2021-22 school year with abundant full time, internship, co-op, and research fellowship opportunities – contributing to Rose-Hulman's strong return on investment.
This follows the Class of 2021 having a 99% placement rate within six months of Commencement – showcasing Rose-Hulman's strong return on investment.
"There's a healthy environment for our students seeking career and summer opportunities," said Scott Tieken, director of career services and employer relations. "We had 509 students conduct 1,272 individual and 63 group interviews with 76 prospective employers (up from 65 in 2021) during our virtual winter career fair (January 26). On top of that, opportunities continue to be posted daily on Rose-Hulman's Handshake portal."
The long list of companies participating in this winter's virtual career fair included Epic, Cleveland-Cliffs, Caterpillar, Bastian Solutions, Collins Aerospace, Cook Medical, GE Appliances, Honeywell, Marathon Petroleum, Milwaukee Tool, Los Alamos National Laboratory, Naval Surface Warfare Center, North American Lighting, Raytheon Technology, Software Engineering Professionals, Siemens Health, and Texas Instruments. This follows 150 companies recruiting on campus during the fall career fair. Another recruiting event is being planned on campus this spring. 
There are more than nationwide 8,700 job opportunities and more than 3,000 internship opportunities on the Rose-Hulman Handshake site, along with nearly 300 for co-ops and more than 200 for research fellowships. 
Institute career advisors help students on resume and interview preparations, as well as how to review and negotiate salary and benefits.
Rose-Hulman's return on investment extends beyond the institution's placement rate. The most recent PayScale report lists the institute in the top 1% in the nation and No. 1 in Indiana in ROI. Credible, a financial technology company, ranked Rose-Hulman No. 19 in the nation in its list of top-25 universities with the best return on investment. A Princeton Review student survey in 2021 ranked Rose-Hulman No. 1 for internship opportunities and No. 8 for career services nationally among private colleges and universities – qualities that lead to a history of strong job and graduate school placement. Rose-Hulman has also been ranked as the top undergraduate STEM college by U.S. News & World Report for the past 23 years.