Ascend Indiana's Network to Help Rose-Hulman Students with Indiana STEM Careers Search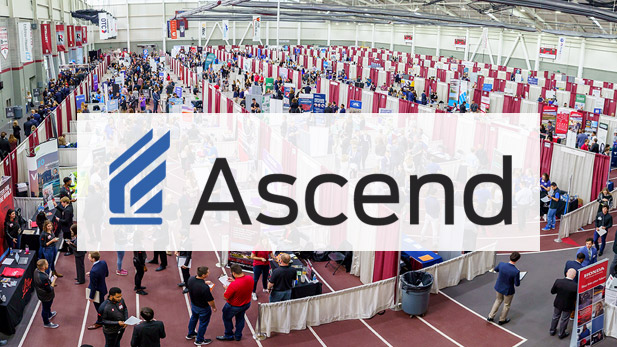 A partnership between Rose-Hulman and Ascend Indiana, an initiative of the Central Indiana Corporate Partnership, is increasing opportunities for students from the top-ranked undergraduate science, technology, engineering, and mathematics college to begin their careers in Indiana.
And that will help fill the talent pipeline for the state's growing tech sector.
Through the Ascend Network, the initiative's online job matching platform, Rose-Hulman students will be able to more effectively connect with Indiana career opportunities that match their skill sets and interests. This partnership also provides Indiana's leading employers with a unique platform for hiring the state's college students for internships and jobs. 
Since its inception in 2017, Ascend has connected more than 2,200 Indiana college students and recent graduates with jobs and internships in all sectors across the Hoosier state. More than 600 employers are currently using the Ascend Network. 
"This network is another valuable tool to assist our students in taking advantage of STEM careers, internships, and co-op opportunities across Indiana," said Scott Tieken, director of Rose-Hulman's Office of Career Services and Employer Relations. "This is a win-win situation for our students and Indiana's tech community." 
The partnership also will help Indiana keep the state's best and brightest college graduates, in a variety of STEM career fields, in the state. 
"It is important for Indiana to produce and retain more college students with relevant skills and abilities to meet employer demand for top talent, particularly in the STEM-related fields, an area that is showing strong growth in Indiana," said Jason Kloth, president and chief executive officer of Ascend Indiana. He adds, "Partnering with educational institutions such as Rose-Hulman is essential in providing students with the necessary tools to find the right career and internship here in Indiana."
The Ascend Network will be offered on campus and via Career Services at no cost to students. Through the Network, students receive personalized job and internship recommendations that can lead to meaningful careers in Indiana. 
Ascend representatives began introducing themselves and the Ascend Network to Rose-Hulman students during the Fall Career Fair on campus October 5.
Rose-Hulman is consistently recognized nationally as an elite STEM school for distinctions that include faculty excellence, return on investment, value-added, and career services. The institute has been ranked the nation's No. 1 engineering college that's focused on bachelor's- and master's-level education for 24 consecutive years in U.S. News & World Report's 2023 Best Colleges Guide. Top rankings nationally were once again achieved in the areas of electrical engineering and mechanical engineering.
Those rankings follow Rose-Hulman earning all-time marks for internships (No. 1), science lab facilities (No. 1), career services (No. 3), and career placement (No. 6) in student surveys gathered to determine the nation's bets colleges and universities for the 2023 edition of The Princeton Review's "The Best 388 Colleges" book. 
Learn about Rose-Hulman's other rankings and distinctions at www.rose-hulman.edu/rankings.
To learn more about the Ascend Network, visit https://ascendindiana.com/.