Alumna Gabbie Gilbertson Revved Up About Formula 1 Motorsports Opportunity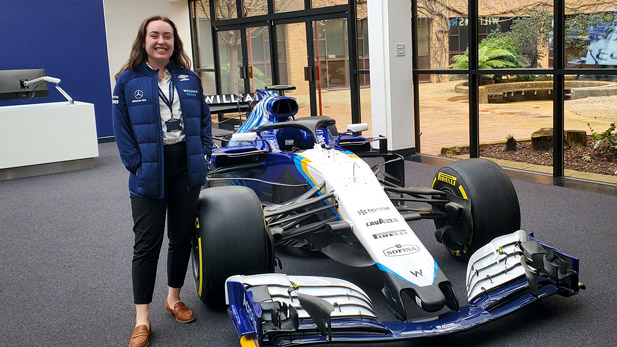 Gabbie Gilbertson's competitive spirit, technical know-how and problem-solving acumen were natural fits to begin her engineering career with one of the world's most successful and sophisticated motorsports teams.
The 2020 mechanical engineering and biomedical engineering alumna is a ride performance engineer within the Williams Formula 1 race team's vehicle dynamics group in Oxford, England. She will help high-tech cars compete in the most competitive level of international open-wheel racing where its champions are drenched by champagne, heralded by royalty and beloved by a devoted fanbase.
"I'm always looking to learn more, grow more and work at the forefront of whatever industry I'm in. Williams has provided me that next challenge," said Gilbertson.
Since starting in November 2021, she has been focused on helping optimize the vehicle performance of Williams' revolutionary new vehicles for the 2022 season. Many design aspects of the team's two race cars have been completed reimagined for this season, including the suspension system.
This has kept Gilbertson busy providing remote ride simulation pre-event reports alongside analysis of practice test runs to determine the best suspension setups to create maximum performance during the 23-race season. There's also collaboration with design, aerodynamic and simulation engineers to determine suspension requirements for future car design, as well as exploring new concepts that will optimize ride and lap time performances.
Williams sought Gilbertson's mathematical modeling skills after reviewing her work studying driver-vehicle system performance while earning an engineering master's degree at England's University of Cambridge. She examined the interaction dynamics of people when driving vehicles, especially in high-performance situations, like motorsports. 
Her international educational experiences started in 2018 when she spent a half year during her Rose-Hulman career to study at Germany's Hochschule Esslingen University of Applied Sciences. She also joined other international students to design a hydrogen/oxygen fuel cell as a renewable, sustainable power supply for an unmanned aerial vehicle.
"Just having the opportunity to work in motorsports is exciting and meets my career objectives but having the opportunity to work at Williams is so exciting. I feel very fortunate," said Gilbertson. "All my hard work and studies have culminated in being able to work alongside some of the most revolutionary forward-thinking people and brightest minds in motorsports, with the best engineering technologies available."
At Rose-Hulman, the native of Honey Brook, Pennsylvania, earned the Department of Mechanical Engineering's Cummins Outstanding Graduating Senior Award in 2020. Gilbertson demonstrated department and campus leadership with involvement on the varsity volleyball team, track and field program, Chi Omega sorority, Greek Intervarsity, AskRose homework helpline, and Tau Beta Pi, and Blue Key national honor societies. She also had internships with Chrysler and Titanium Metals Corporation.
"I got used to balancing my different projects at Rose-Hulman and collaborating with people from different departments," she said. "I learned to rely on teammates' contributions to get things done. It was an great learning environment that I still cherish. I definitely had great preparation for working in a competitive motorsports environment." 
The Williams race team has won nine constructors and seven drivers championships in Formula 1 since being formed in 1977. The team's 2022 series drivers are Nicholas Latifi of Canada and Alexander Albon of Thailand. The season starts March 18-20 in Bahrain and will continue until mid-November with races in four other continents and 20 countries, including three events in North America (Miami, May 6-8; Montreal, Canada, June 17-19; and Austin, Texas, Oct. 21-23).