99% Placement Rate, All-Time High Salaries for Class of '22 Highlight Rose-Hulman's Top ROI
Thursday, December 15, 2022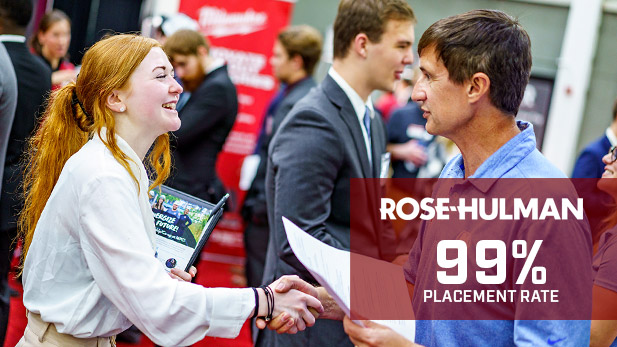 Rose-Hulman Institute of Technology's strong value and return on investment is once again showcased by a 99% placement rate of the entire graduating Class of 2022, an all-time high $80,157 average starting salary, and $166,250 high accepted salary. Graduates were placed in 37 states and 2 foreign countries.
"Employers continue to value the excellent qualities that Rose-Hulman graduates bring to defining and solving the problems of a complex global society," said Rose-Hulman President Robert A. Coons. "Our Class of 2022 was well prepared to begin lives of purpose and success."
Ninety-two percent of Rose-Hulman's Class of 2022 was placed prior to commencement in May. The final placement report was filed six months after graduation on December 1 to comply with National Association of Colleges and Employers reporting guidelines. High offers of over $100,000 were reported for majors in Chemical Engineering, Computer Engineering, Computer Science, Mechanical Engineering, Optical Engineering, and Software Engineering. 
Top companies hiring Class of 2022 members included Caterpillar, Texas Instruments, Amazon, Raytheon, Eli Lilly, GE Aviation, and Microsoft. 
Twenty-one percent of Rose-Hulman's recent graduates are now attending graduate schools such as Harvard Medical School, Johns Hopkins, Princeton, Stanford, Columbia, and Brown.
Placement prospects for next year's graduating class also are off to a strong start, with a record 283 companies attending this year's Fall Career Fair and several firms attending other events to make students aware of full time, internship, and co-op positions. Thousands of opportunities are listed exclusively for Rose-Hulman students on the Handshake online placement service. A Winter Career Fair is planned on campus January 25 – the second of three recruitment events hosted each school year.
"The opportunities are abundant for our students and alumni. Rose-Hulman is well respected within the STEM community," says Coons. "As we attract more top STEM-minded students from around the world, we're also seeing similar growth in the number of employers like IBM, Tesla, Cisco Systems, Arrow McLaren Motorsports, and others hiring more and more Rose-Hulman graduates each year."