Making History: Female Seniors Earn All Top Computer Science, Software Engineering Honors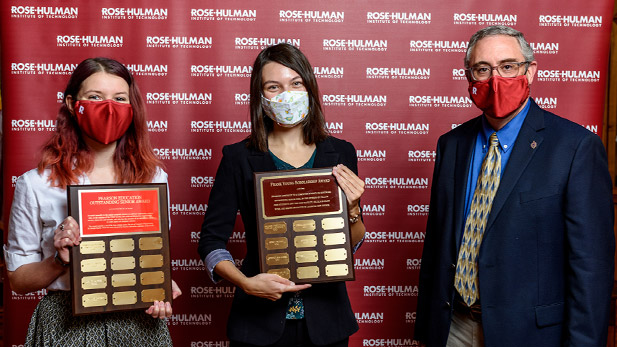 For the first time in program history, female graduating students captured all the Department of Computer Science and Software Engineering student awards presented at this year's Rose-Hulman Honors & Awards Ceremony.
Improving gender diversity is a major emphasis of the program's student and faculty recruitment and retention efforts, according to department head and professor J.P. Mellor. These efforts have been
supported by financial donors
and corporate support.
Females now make up 17% of the institute's 440 students studying
computer science, software engineering, and international computer science
as a primary or secondary degree. That's a commendable improvement from the 9% of females being majors within the department in the 2011-12 school year, and 4% in 2008-09 when only seven females were enrolled.
Joanna Garrett, a software engineering and computer science double major from Livonia, Michigan, received this year's department Pearson Education Outstanding Senior Award. The honor recognizes the student who, in the opinion of the department faculty, has achieved distinction in academics, service, character, and attitude, and who has the promise of an outstanding career in some aspect of computer science. The award includes a set of the four-volume series "The Art of Computer Programming," by Donald Knuth, which was donated by its publisher, Pearson Education.
Meanwhile, computer science senior Cherise McMahon of Milwaukee received the Frank Young Outstanding Service Award for exemplary service that has enhanced the department, Rose-Hulman, and the community.
Jessica Myers, a computer science senior from Evansville, Indiana, earned the Frank Young Outstanding Scholarship Award for classroom excellence and showcasing an initiative to learn new things.
Both awards are named in honor of Young, a professor emeritus and former head of the department.