Alumnus Leaves $1.1-Million Bequest to Increase Diversity in Computing
Wednesday, January 17, 2018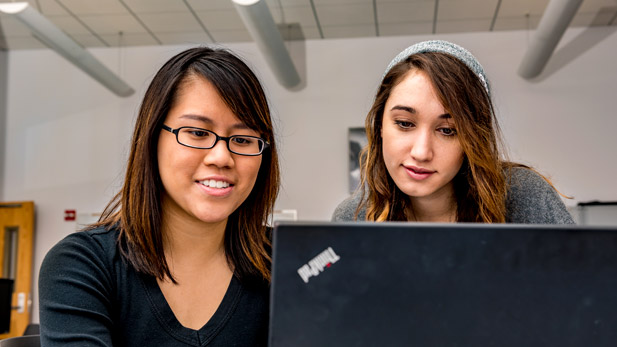 Rose-Hulman Institute of Technology alumnus Richard L. Conn's interest in impacting computer science education and the field of computer science has resulted in a $1.1-million bequest to the institute's Department of Computer Science and Software Engineering.
The gift will assist Rose-Hulman in meeting several of its strategic goals regarding computer science and software engineering, including improving diversity among the student body and faculty. Other key initiatives include expanding interdisciplinary and global experiences, developing course curriculum that addresses emerging technical areas, and addressing societal needs for more college graduates with computer science and software engineering skills.
"Rick's gift will be transformative for our department and Rose-Hulman," said J.P. Mellor, head of the Department of Computer Science and Software Engineering. "Rick was very interested in emerging technology, regularly attending the Consumer Electronics Show just to see what was coming next. He also was passionate about education, and developing the next generation of computer scientists and software engineers."
Conn, a 1976 computer science graduate with cum laude academic honors, had a long and varied career assisting in research projects as a computer programmer and software specialist for the U.S. Army, Texas Instruments Inc., General Electric Co., Lockheed Martin Corp., Microsoft Corp. and The MITRE Corp. He also had been an assistant professor of software engineering at Monmouth University (N.J.), and an adjunct faculty member at the Air Force Institute of Technology and University of Cincinnati in Ohio, as well as Southern Polytechnic State University and Kennesaw State University in Georgia. He died late in 2016.
Emeriti computer science and software engineering professor and former department chair Cary Laxer notes that Conn liked mentoring students on a variety of design projects—many sponsored by industry—and started a STEM scholarship at Rose-Hulman. Conn also served on the department's advisory board for nearly 15 years, and helped arrange for Laxer to participate in a Microsoft Faculty Research Summit.
"Rick was the most sincere, helpful man I have ever met. He always took an interest in what was best for Rose-Hulman, the computer science department and our students. I'm not surprised by his generosity in giving back to support a department that he took great pride in having graduated from," said Laxer.
Mellor added, "Rick believed so deeply in Rose-Hulman and the Department of Computer Science and Software Engineering that he left the bulk of his estate to support computer science and software engineering. Through this exceptionally generous gift, Rick's legacy will live on and enable us to enhance our students' educational experience."
Rose-Hulman established a computer science major in 1968 and computer science became a separate academic department in 1981. The department also offers majors in software engineering and international computer science.
According to the National Center for Education Statistics, women earned nearly 40 percent of all computer science bachelor degrees granted in the early 1980's by U.S. colleges and universities. Mellor notes that the explosive growth in the need for computer science graduates over the past three decades has created an insufficient number of qualified teachers and increased competition for limited resources. These challenges have disproportionately impacted women and other underrepresented minorities in computer science and software engineering.
The Computer Science and Software Engineering Department is committed to addressing these challenges, according to Mellor. He points out that women earned 18 percent of the computer science degrees awarded by Rose-Hulman for the 2015-16 academic year—higher than the 16-percent rate for all U.S. institutions.
Job prospects for computer science and software engineering are outstanding, Mellor cited, with more jobs now valuing significant computing and computer coding skills. College enrollments in these STEM fields have grown significantly, but so far have been unable to meet industry demand.
Provost Anne Houtman points out that Rose-Hulman has been taking steps in recent years to change the diversity landscape across all STEM disciplines, with female students now making up 24.7 percent of the college's student body. Females consist of 17.8 percent of this year's junior, sophomore and first-year computer science and software engineering majors.
Reflecting national trends, computer science and software engineering at Rose-Hulman has seen significant and sustained enrollment increases for more than a decade, and computer science is now the institute's second-largest major. A record 93 first-year computer science and software engineering majors enrolled for the 2017-18 academic year.