Logan Library Adds Technology, Electronic Resources Through Federal Grant
Wednesday, December 08, 2021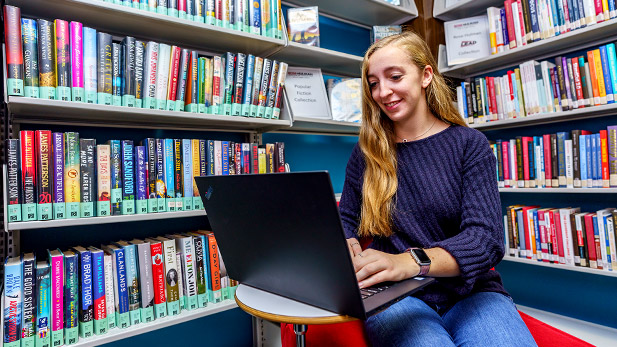 Rose-Hulman's John A. Logan Library has used a $25,500 grant from the U.S. Institute of Museum and Library Services, administered by the Indiana State Library, to increase technology and digital content to support student learning within health and safety pandemic protocols.
Funding came from the federal government's American Rescue Plan Act of 2021 grant to support the Logan Library's pandemic mitigation and response initiative.
Bernadette Ewen, senior director of the Logan Library and student learning resources, reports these financial resources have added four large flat-screen televisions with wireless technology to increase student online learning within the library. The technology will be used by students taking online classes and tests, studying and having design team group meetings, and participating in training sessions and interviews. 
Also, the library's digital educational material collection has been greatly enhanced to increase students' learning and well-being while supporting online/remote learning and promoting student self-care. Students will now have perpetual access to six materials science academic major reference electronic-books, 11 engineering management e-books, and one self-care/wellness e-book.
These new educational tools are respecting COVID-19 social distancing and health and safety best-practices.
Ewen states, "This grant funding came at a key time as the library sought to increase technology and digital content resource materials to better support students' learning and well-being while respecting COVID-19 safe practices. We're grateful for this support from the Institute of Museum and Library Services and the Indiana State Library." 
The new e-books fill the void created by students not being able to access important educational material in print due to COVID. Some uses of the e-books include:
Elsevier ScienceDirect Major Reference Works e-books are expected to be used by students in multiple engineering and science departments on campus. Students can utilize one of the new materials science e-books in 11 different biomedical engineering courses, according to Jameel Ahmed, PhD, head of the Department of Biology and Biomedical Engineering.
 
The new engineering management e-books will support the increased demand for library books being used in class projects. These e-books will be used in lieu of library printed materials and course reserves. Associate Dean of Lifelong Learning and Engineering Management Department Head Craig Downing, PhD, states, "Once I gained access to these electronic resources, I immediately included elements in my lecture. I was able to provide students with a complimentary external resource to extend our discussion of practicing engineering management in a global environment."
  
And, the self-care/wellness e-book, "Self-Care for College Students," will be used to support students continuing to cope with the continuing effects of the pandemic. The e-book was selected by the Sarah Forbes, PhD, director of student academic success.