Graduates Recognized for Academic Success, Service to Others, Campus Leadership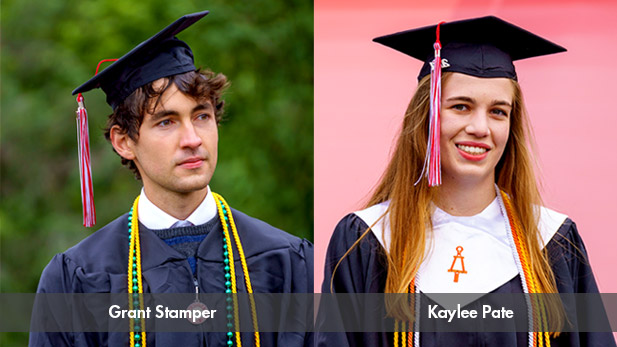 Outstanding scholastic success and service to campus and community earned special Class of 2021 honors to biology graduate Grant Stamper and chemical engineering and biochemistry and molecular biology double major Kaylee Pate during this year's Commencement, May 29.
Stamper, from Terre Haute, received the Herman A. Moench Distinguished Senior Commendation for distinguishing himself as a commendable influence on members of the Rose-Hulman community, according to Herman A. Moench Distinguished Professor Thom Adams, a professor of mechanical engineering.
Meanwhile, Pate earned the John T. Royse Award for being considered the most outstanding graduate, in the opinion of Rose-Hulman's faculty and staff, based upon academic achievement, student leadership, participation in co-curricular activities, and general campus citizenship. Royse served as a member of Rose-Hulman's Board of Trustees for several years; his son, John N. Royse, is an emeritus member of the board.
Pate, from Vincent, Ohio, also was among five graduates recognized with Heminway Gold Medal awards for having perfection during their academic careers.
Stamper excelled in and out of the classroom. He graduated with summa cum laude academic honors and was a four-year member of the varsity tennis team that won Heartland Collegiate Athletic Conference championships and played in the NCAA Division III national tournament. In fact, he had the match-clinching point in the team's first-round victory in the 2019 tourney.
However, Stamper's sense of community and dedication to serving others that Adams stated replicated the life served by Moench, a legendary Rose-Hulman professor and administrator.
Stamper was an emergency medical technician and volunteer firefighter since his sophomore year for the Sugar Creek Fire Department in nearby West Terre Haute, Indiana. Then, he also became a COVID-19 vaccinator this past year, administering numerous vaccines at community health clinics at both Terre Haute hospitals and the Rose-Hulman campus.
"Despite the rigors of attending class and lab during the day and riding with patients in the back of ambulances at night and on the weekends, Grant approaches all his endeavors with an unparalleled sense of humility and gratitude," stated Adams in presenting the honor.
Stamper plans to become a physician and will begin medical school at Indiana University this fall.
Equally impressive are the Pate's academic credentials and campus leadership roles. Along with achieving a perfect 4.0 grade-point average while majoring in two distinct academic areas, chemical engineering and biochemistry and molecular biology, she was president of the Rose-Hulman student chapter of the American Institute of Chemical Engineers and had an active role in the cross country and track and field programs. When her own running career was cut short due to injury, Pate asked to remain involved with the team as a manger. Head Coach Geoff Wayton gave her the title as "Student Assistant Coach."
About Pate, Wayton stated, "Her sensitivity and empathy to those who were hurting ensured that they received help in a timely manner. In short, Kaylee kept our student athletes happy, focused, grounded and together."
Pate also volunteers for several organizations including Girl Scouts, MathCounts and the Salvation Army, and has played in the Rose-Hulman concert band throughout her college career. She previously earned the Elanco Award for Excellence in Chemical Engineering as the top junior chemical engineering student and Theodore Paine Palmer Outstanding Mathematics Award during her freshman year.
After graduation, Pate is planning to begin her career as a process engineer with ThermoFisher Scientific in St. Louis.
Joining Pate in earning the Heminway Gold Medal for attaining the highest academic achievement, with a perfect 4.0 grade-point average, during their Rose-Hulman careers were Karen Folz, a chemical engineering and biochemistry and molecular biology double major from Cincinnati, Ohio; Marc Fournier, a computer engineering and computer science double major from Martinsville, New Jersey; Hailey Heidecker, an electrical engineering major from Newburgh, Indiana; and Andrew Johnson, a computer engineering and computer science double major from Quincy, Indiana.