Emeritus Professor Cary Laxer Being Recognized as ABET Fellow
Thursday, October 28, 2021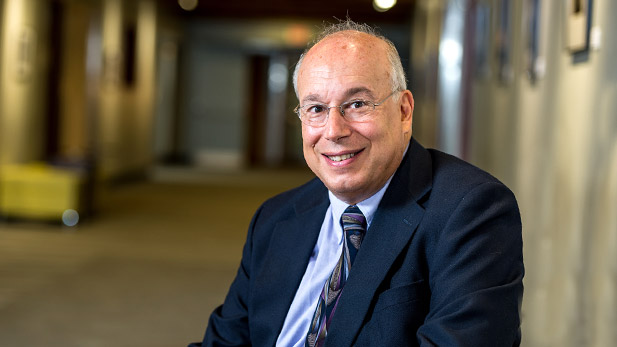 Professor emeritus and former head of Department of Computer Science and Software Engineering Cary Laxer, PhD, is being recognized as an ABET Fellow for sustained contributions to training, incorporating the computer science model curriculum into ABET criteria, and leadership in transitioning to virtual accreditation visits. The honor is being presented during the 2021 ABET Awards Celebration, a virtual event on Saturday, October 30.
This marks the second consecutive year that a Rose-Hulman faculty member has earned ABET Fellow honors. Patsy Brackin, director of the engineering design program, was featured in 2020.
ABET is a nonprofit organization that accredits college and university programs in applied and natural science, computing, engineering, and engineering technology. 
Laxer was a full-time faculty member for the institute from 1981 until retirement in 2017, before returning as a part-time instructor until 2019. He led the development of the computer science and software engineering area from 2002 to 2015. During this time the program grew in student enrollment, faculty stature and national reputation.
His teaching specialties included international project collaboration, computer graphics, computer game development, data structures, and computing fundamentals. Professional development efforts have focused on pedagogical concepts associated with students working on international collaborative open-ended projects. He also serves as the chapter advisor for the Triangle fraternity's Rose Tech chapter and formerly was advisor of the Rose Drama Club. During his faculty tenure, Laxer earned the Dean's Outstanding Teacher Award in 1986 and was given honorary alumni status by the Rose-Hulman Alumni Association in 2002.
Laxer has served as an ABET volunteer for nearly 20 years, rising through the ranks as a program evaluator, team chair, commissioner, and executive committee member. He currently is chair of the organization's computing accreditation commission.
A senior member of Association of Computing Machinery (ACM), Laxer is also a life senior member of Institute of Electrical and Electronic Engineers, and a member of American Society of Engineering Education. He has held numerous leadership roles with ACM's SIGCSE, ITiCSE, and CompEd conferences, and received SIGCSE's lifetime achievement award earlier this year. He has served on the education committee of SIGGRAPH, including a term as chair of the computer science curriculum subcommittee.
Laxer earned a bachelor's degree in computer science and mathematics from New York University in 1976 and a doctorate in biomedical engineering from Duke University in 1980.