High School Students Off to Races Friday in RHIT Autonomous Vehicle Challenge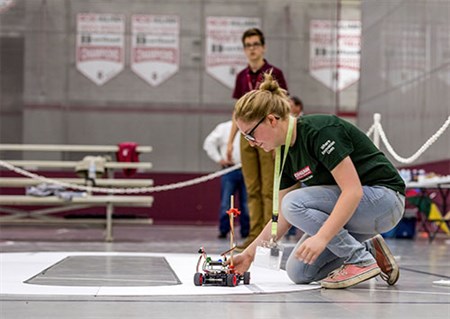 The Future Is Now: High school students from 10 high schools in four states have developed vehicles to drive autonomously around oval, clover and mystery shaped race tracks in this year's RHIT competition.
Rose-Hulman is giving high school students from as far away as Texas the opportunity to learn future technology through an autonomous vehicle challenge taking place on campus Friday, March 17.
The event is using sophisticated technology to attract teenagers to science, technology, engineering and mathematics fields, according to Marc Herniter, professor of electrical and computer engineering. The students have used tools developed by computing software developer MathWorks and the international semiconductor firm NXP to implement engineering processes used by Ford Motor Company to design advanced technology vehicles. All three companies are co-sponsoring the Rose-Hulman challenge.
More than 100 students and teachers making up 25 teams from 10 high schools have spent several weeks developing miniature vehicles that feature a microcontroller and sensors to drive autonomously around oval and clover-figure race tracks. Each team has a minimum of five students and must have at least one female or minority student. All-female/all-minority teams receive special financial incentives.
Indiana schools participating include Clay City High School, North Vermillion High School (Cayuga), Northview High School (Brazil), South Vermillion High School (Clinton), Terre Haute North High School and Terre Haute South High School. Other teams are coming from Metea Valley High School in Aurora, Ill.; Pope John Paul II High School in Hendersonville, Tenn.; Richardson High School, Richardson, Texas; and Whitney Young Magnet High School in Chicago.
Oval, clover and mystery shaped track competition rounds are scheduled from 9:30 a.m. to 11:30 a.m. in the field house area of the campus' Sports and Recreation Center. Full-scale track competition will begin at 12:30 p.m. and continue until 2:30 p.m.
Herniter has organized the Rose-Hulman challenge. It is a smaller-scale version of the NXP Cup/Intelligent Car Racing Competition, an international university-level challenge where teams of undergraduate- and graduate-level students program a microcontroller-based vehicle to follow a track autonomously. Rose-Hulman student teams have undertaken this challenge for several years.