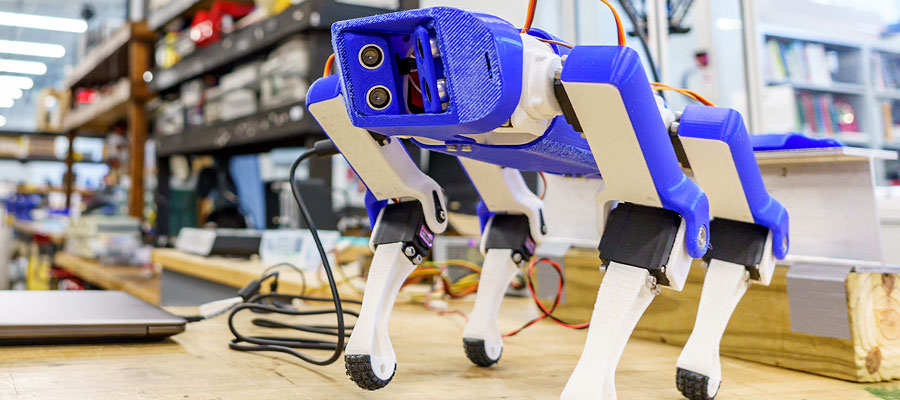 Mechanical Engineering: A Highly Flexible Major
Mechanical engineering is a broad field of endeavor, and our curriculum will give you a strong foundation. Our technical elective program and opportunities for hands-on project work will give you the flexibility to pursue diverse career goals, across a variety of industries and professions.
Watch this short video to learn more about our Mechanical Engineering program.
In the below video, we talked to some professors and students to give you a look at what makes Rose-Hulman's mechanical engineering program special.
Mechanical Engineering is the most popular major on campus – and for good reason. 
We offer several areas of concentration, allowing you to customize your experience to suit you. Some areas of concentration include aerospace, advanced transportation, dynamic systems and control, and thermal fluids. We also offer  independent project experiences suited to your interests and many ME majors add minors in robotics, materials science and engineering, computer science, or other fields.
We're also closely associated with several competition teams on campus, including Design/Build/Fly, Robotics, Human Powered Vehicle, Rose Efficient Vehicle, and Formula SAE/Grand Prix Engineering.
We believe the best engineers and scientists have a global perspective. That's why we encourage all Rose-Hulman students to see the world. As a mechanical engineering major, you'll have many opportunities to study abroad. You can study practically anywhere, including New Zealand, Germany, and Sweden. 
Despite being the largest major on campus, our most recent grads had virtually 100 percent career placement just a few months after graduation. Our program is ranked No. 1 in the nation by U.S. News & World Report.