The World of Musicals in Concert to Perform Iconic Tunes at Rose-Hulman on February 5
Wednesday, February 01, 2023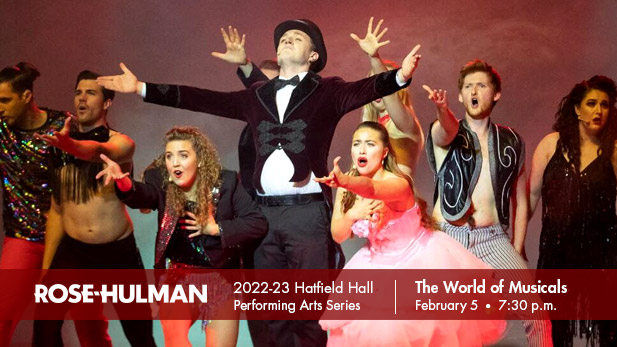 The World of Musicals in Concert brings their world-class ensemble of multi-talented artists to Rose-Hulman's Hatfield Hall Theater Sunday, February 5, at 7:30 p.m., as part of the college's Performing Arts Series 
The World of Musicals in Concert has graced stages across the globe. Its members exquisitely perform classic hits, fused with emotive ballads, big-screen anthems and iconic showtunes.
From the best of "The Phantom of the Opera" and "Les Miserables" to "We will Rock You, "Sister Act" and many more, the World of Musicals delivers a stirring musical concert theatre experience that leaves audiences spellbound – from the opening song to the final medley of classics.
The World of the Musicals concert is a show that is tailored for the entire family, so get ready to be enthralled and sing along to all your favorite and much-loved musical songs in one unforgettable evening. Secure your seats today to a show inspired by many, but unlike any other.
Tickets for this show are $35 for adults, $30 for those under 18 years old and for Rose-Hulman faculty and staff, and free for Rose students with a valid identification card. Tickets can be purchased at hatfieldhall.com, by calling 812-877-8544, or visiting the Hatfield Hall ticket desk Tuesday through Friday from 9 a.m. to 2 p.m. If still available, tickets also could be purchased at the ticket desk beginning one hour before the show.