The Mavericks Bringing Spicy Musical Recipe to Hatfield Hall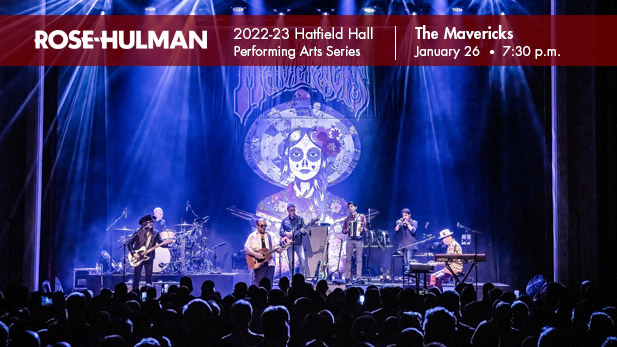 The Hatfield Hall Theater will be rocking to the enthusiastic country, rock 'n' roll and Tex-Mex beats of the Billboard chart-topping The Mavericks for an exciting Performing Arts Series show on Thursday, January 26, at 7:30 p.m. 
The Mavericks have crisscrossed a variety of musical boundaries during a performing career that's currently enjoying a renaissance in its 30th year of existence. Its core members have gone from young adults who gathered in Miami in 1989 to veteran musicians, with several swings and cycles along the way.
There was an initial period of heady success marked by big hits and critical acclaim in the 1990s. A hiatus from 2003 to 2012 had the four musicians going their own separate musical ways. And a triumphant reunion has seen The Mavericks record a No. 1 Billboard hit with its first all-Spanish album, En Español, released last fall. It offers a diversity of musical styles and cultural traditions, from tender boleros to brassy mariachi to reimagined Afro-Cuban classics, that adds to the group's sturdy rock/country base. Five tunes are originals written or co-written by lead singer Rual Malo, who also plays guitar.
Other group members are drummer Paul Deakin, Jerry Dale McFadden on keyboards and vocals, and Eddie Perez on lead guitar and vocals.
The Mavericks' songs are as diverse as Latin America itself and as cohesive as the ideal of the American melting pot. The foundation is solidly Latin with streaks of irreverent rock and twangy guitars running through it, all branded with the group's unmistakable style.
Tickets for this show are $45 for adults, $40 for those under 18 years old and for Rose-Hulman faculty and staff, and free for Rose students with a valid identification card. Tickets can be purchased at hatfieldhall.com, by calling 812-877-8544, or visiting the Hatfield Hall ticket desk Tuesday through Friday from 9 a.m. to 2 p.m. If still available, tickets also could be purchased at the ticket desk beginning one hour before the show.