Students Honored for Top-of-Class, Academic Department Achievements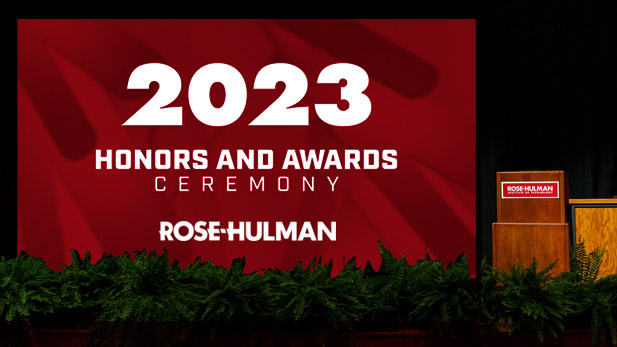 This year's Honors and Awards Ceremony recognized more than 100 students for their scholastic, leadership, character, and potential for career success, including 63 scholars achieving top-of-class academic status. The event was on May 13 at the Hatfield Hall Theater. 
Earning top class academic honors, based on the highest grade-point average and having the highest number of graded credit hours in each student class, following the 2021-22 school year, were: Ryan Foster, a mechanical engineering major, the Carl Wischmeyer Award as the outstanding junior; Andrew Kosikowski, a student majoring in computer science, software engineering, mathematics, and data science, the Paul N. Bogart Prize as the outstanding sophomore; and Joshua Lowe, a computer science major, the Heminway Bronze Medal as the outstanding first-year student.
Recognized as Carl Wischmeyer Scholars for having top grade-point averages after their junior year (2021-22) were Zili He, Julia McGuire and Kenton Pardue.
Named Paul N. Bogart Scholars for being top of the class academically after the sophomore year (2021-22) were Ayden Ayres, Blake Baker, William Chong, Nathan Dalton, Olivia Davis, Ella Dorfmueller, Dylan Dorman, Jonah Fechner, Michael Fraczek, Zack Gault, Nat Hurtig, Arjent Imeri, Tori Kinnamon, Yingeng Liu, Peyton D. Miller, Tracy Orgera, Nathan Quets, Adithya Ramji, Andrew Shaw, Hannah Snider, Liam Waterbury, and Kate Wood. 
Heminway Scholars recognition were bestowed on the following top-ranked first-year students (after 2021-22 school year): Salik Ahmad, Tanush Biswal, Liam Branstetter, Dominic Buoscio, Sarah Collins, Ariadna Duvall, Nick Edwards, Adam Field, Liz Francois, James Franke, Daniel Gaull, Jimmy Hall, Calvin Hamilton, Natalie Hannum, Drew Huffman, Jacob Kandel, Fritz Kyser, Kaylee Lane, Daniel Laritz, Ben Lyons, Ishaan Mishra, Sydney Naibauer, Henry Nunns, Ethan Ockwig, Dylan Page, Joseph Parsons, Hannah Ponstine, Vineet Ranade, Makiah Randolph, Ian Resnik, Justin Roberts, Josh Schrock, Ellen Shales, and Isaac Towne.
      
This year's academic department award winners were:
BIOLOGY AND BIOMEDICAL ENGINEERING
John M. Beals Outstanding Biology Graduate Award: Lianna Fiore
Samuel F. Hulbert Outstanding Biomedical Engineering Graduate Award: Luci Duncan
CHEMICAL ENGINEERING
Marathon Petroleum Award for Excellence in Chemical Engineering: Ella Dorfmueller
Endress+Hauser Award for Excellence in Chemical Engineering: Emily Rose
Sam C. Hite Award for the Outstanding Senior in Chemical Engineering: Emma Goodman
CHEMISTRY AND BIOCHEMISTRY
John White Award in Chemistry: Jack Raker and Michael Ryan
William Albert Noyes, Sr. in Chemistry: Tori Kinnamon and Azaria Wagner
Mottel Outstanding Graduate in Chemistry Award: Tori Kinnamon
CIVIL AND ENVIRONMENTAL ENGINEERING
Edward A. MacLean Award: Zachary Jackson
American Society of Civil Engineers Alumni Award: Alexis Juarez
Morris L. Cleverley Award: Kenton Pardue
Shelton Hannig Award: Julia McGuire
COMPUTER SCIENCE AND SOFTWARE ENGINEERING
Pearson Education Outstanding Senior Award: Alyssa Pinkston
Frank Young Outstanding Service Award: Saayeh Siahmakoun
Frank Young Outstanding Scholarship Award: Jackson Shen
ELECTRICAL AND COMPUTER ENGINEERING
Clarence Knipmeyer Award-Electrical Engineering: William Chong
Clarence Knipmeyer Award-Computer Engineering: Blake Baker and Zili He
Outstanding Senior Award-Electrical Engineering: Abel Keeley
Outstanding Senior Award- Computer Engineering: Isabel Wilson
Outstanding IEEE Member-Electrical Engineering: Marco Saucedo
Outstanding IEEE Member-Computer Engineering: Cooper Brotherton
MATHEMATICS
The Clarence P. Sousley Award: Jayden Foshee
Henry Turner Eddy Award-Applications of Mathematics: Nat Hurtig and Olivia Davis
Henry Turner Eddy Award-Theoretical Mathematics: Aden Shaw
Theodore Paine Palmer Award: Thor Catteau, Connor Lane and Alexa Renner
MECHANICAL ENGINEERING
Senior ME Student Leadership Award: Greg Ballen
Cummins Inc. Most Outstanding Senior Year Award: Ryan Foster
MILITARY SCIENCE
Captain "Sarge" Kearns Leadership Award: Jacob Phillips
CPT W.D. Weidlein Volunteer Leadership Award: Tatiana Andrade
PHYSICS AND OPTICAL ENGINEERING
Jean M. Bennett Award: Cody Brelage
John W. Rhee Memorial Award: Jared Poston
Outstanding Senior Engineering Physics Award: Pierce Lonergan
Perry Family Astronomy Award: Brody Magee