Rose-Hulman's Engineers in Concert to Perform February 10
Friday, February 03, 2023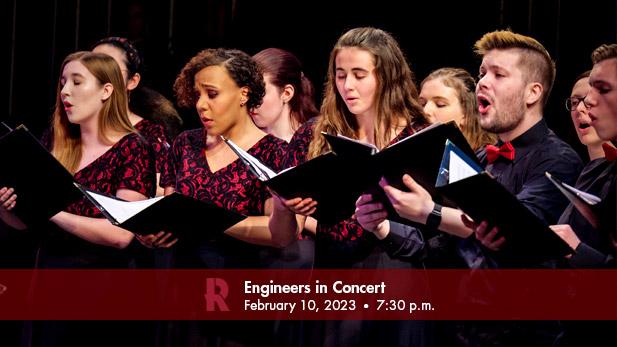 Members of the Rose-Hulman community will come together Friday, February 10 at 7:30 p.m. to celebrate art, music, and dance for the Engineers in Concert performance. 
In this elite annual showcase of campus talent, a variety of acts and groups from across campus perform on the Hatfield Hall stage and show the public that Rose-Hulman has more to offer than a top-quality STEM education. Help us celebrate this campus-wide celebration of the arts!
Engineers in Concert was started in 1981 by Dr. Joan Singer Spicknall and then-student David Dvorak as an evening highlighting the talents of Rose-Hulman students, faculty, and staff. The show features all genres of fine performing arts, from classical, jazz, folk, and sacred music to juggling and dance.
This year's acts include Rose Concert Band, Rose Chorus, string ensembles, vocal ensembles and solos, bluegrass ensemble, instrumental groups and solos. A new feature this year is a lobby exhibit of artwork created by students of Rose-Hulman Assistant Professor of Art Soully Abas.
This event is FREE and open to the public!