Richard House Named Associate Dean at Rose-Hulman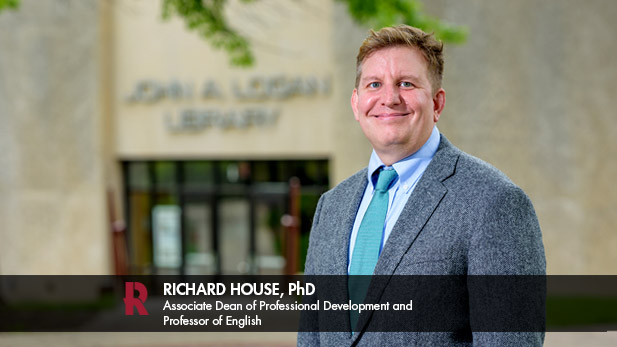 Experienced educator and department head Richard House, PhD, has been named Associate Dean for Professional Development at Rose-Hulman. 
Beginning on July 1, House will organize programs supporting fellow faculty members in bringing innovations to their classrooms that keep Rose-Hulman on the leading edge of curriculum development in science, technology, engineering, and mathematics (STEM) education. He also supervises programs highlighting endowed faculty for their teaching expertise and scholarly research while providing opportunities for professors to work with students on undergraduate research activities in STEM areas.
House is succeeding inaugural Associate Dean Ella Ingram, PhD, who will return to the faculty as a Professor of Biology and Biomedical Engineering.
"Dr. Ingram put a solid foundation in place and set a high bar for the position. We look forward to seeing Dr. House build on that foundation and tradition," said Provost and Vice President for Academic Affairs Rick Stamper, PhD,  in announcing House's appointment.
House has served as Head of the Department of Humanities, Social Sciences and the Arts since 2017, supporting the expansion of arts courses and other programming in the department, and strengthening degree course offerings to make humanities, social sciences and the arts an integral part of the education for every Rose-Hulman student. He spent the 2022-23 school year teaching communication skills to students as part of the Engineering Design program's first-year design studios. 
An English professor within the Rose-Hulman faculty since 2001, House has become a leading member of the campus community. He was a member of a faculty/staff committee that supported the college's successful Mission Driven Campaign for Rose-Hulman and has contributed to several of the college's academic initiatives. He was one of the Rose-Hulman professors that facilitated Making Academic Change Happen workshops for faculty, staff and administrators from throughout the world, and has long supported programs incorporating sustainability with humanitarian engineering. 
House is former president of the Institute of Electrical and Electronics Engineers' Professional Communication Society, a global organization dedicated to understanding and promoting communication in engineering, scientific and other technical environments. He also teamed with Rose-Hulman faculty colleagues Jessica Livingston, PhD, and Sean Moseley, PhD, along with retired professor Richard Layton, PhD, in writing The Engineering Communication Manual to help engineering students develop their technical communication skills. The team's research on engineering communication for environmental public policy earned the James M. Lufkin Award for best paper at an International Professional Communication Conference.
In the classroom, House teaches courses in American literature, William Shakespeare, sustainability, and communications for engineers and scientists.
House earned a bachelor's degree in English and philosophy from Illinois Wesleyan University and added a master's degree and doctorate from the University of California, Irvine before joining the Rose-Hulman faculty.