High-Roller Alumnus Steve Hill Transforming Sin City into Sports/Entertainment Mecca
Monday, November 13, 2023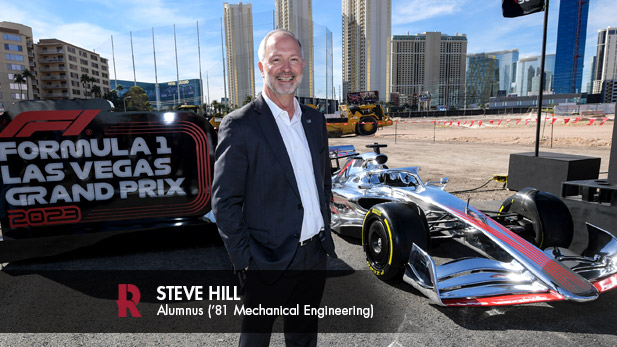 As the Las Vegas Convention and Visitors Authority's chief executive officer and president, 1981 mechanical engineering graduate Steve Hill has blended an engineer's analytical skills, a leader's charisma, and business savvy to transform Sin City into the sports and entertainment capital of the world.
That vision had international-renowned Formula 1 racers zooming down the city's neon-coated Strip this fall.  Super Bowl LVIII is approaching in February and the NCAA Men's Basketball Final Four is set to tip off in 2028. 
On top of those spectacles, the growing desert community has become home of championship-winning professional hockey and women's basketball franchises, had U2 opening the revolutionary MGM Sphere 360-degree immersive theater, and hosts performances by superstar musicians, magicians, comedians, and other entertainers. 
And, of course, there's gambling too.
"Las Vegas is a city that's most reliable on one industry, hospitality, with its resorts, casinos, and conventions. My goal has been to diversify as much as possible while showing the world that we're also a premier destination for sophisticated entertainment, culture, dining, technology, and sports," said Hill, a self-professed "High-Roller" who is responsible for operations of the Las Vegas Convention Center and chairs the Las Vegas Stadium Authority that includes Allegiant Stadium, home of the National Football League's Las Vegas Raiders.
"I have the best job in the world with the easiest product to sell. It's a product where just mentioning 'Las Vegas' brings a smile and lights up everyone's eyes," Hill stated. "Formula 1 racing and the Super Bowl are the two biggest events we could possibly host, and the entire world is watching how we do it. If we get it right, people are going to say, 'Yeah, we knew Vegas could do that.' It will also lead to confidence and everything else we have planned, so it's key to our future."
The Dayton, Ohio, native spent the first 30 years of his career away from the bright lights, working within the manufacturing industry. He moved to the Las Vegas area and made valuable business connections as founder and manager of Silver State Materials, senior vice president of CalPortland, and chairman of Service1st Bank of Nevada. Former Nevada Governor Brian Sandoval appointed Hill in 2011 to direct the Governor's Office of Economic Development, where he lured numerous businesses to the state, including Tesla and Apple.
Seven years later, Hill became leader of the Las Vegas Convention and Visitors Authority and has helped navigate the city through the ravaging effects of COVID-19 on the hospitality industry. The convention center unveiled a $1 billion, 1.4 million-square-foot expansion in 2021 and a partnership with The Boring Company has brought an underground transportation system that allows guests to move around the 200-acre convention center campus. Hill is now actively involved in bringing a larger tunnel application—the Vegas Loop—to downtown Las Vegas, the Strip, and Allegiant Stadium.
"When we look back 10 years from now, Steve Hill will be seen as one of the visionaries who reimagined what Las Vegas could become," MGM Resorts chief executive Bill Hornbuckle has told the Las Vegas Review-Journal.
For his part, Hill remarked, "I've always been a goal-oriented person who brings people together to accomplish big things. There are few if any engineers in leadership roles within the hospitality industry, but how an engineer critically looks at things and solves problems, skills harnessed through lots of hard work at Rose-Hulman, are very important skills to have in this business."