From Rose-Hulman to Harvard Medical School
Wednesday, February 01, 2023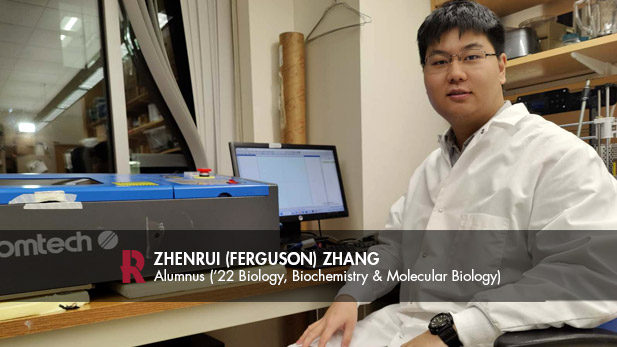 There is no question that Zhenrui (Ferguson) Zhang left his mark at Rose-Hulman. A 2022 biology, biochemistry and molecular biology alumnus, Zhang contributed to a faculty research project and graduated early. He was accepted into a research training internship at Harvard Medical School and has since entered the medical school on a joint-PhD research track. Having now been at Harvard for close to a year, Zhang recognizes how much Rose-Hulman prepared him for medical school.
"Harvard encourages collaboration inside and out of the fields," said Zhang. "When I came to Harvard, I was ready and well trained to do this kind of collaboration with mentors and co-workers because I learned that type of work from Rose. We practiced that every day with professors and students at Rose. I'm thankful for that experience because it's in my nature to do that now at Harvard."
Zhang's introduction to collaborative research at Harvard was his internship. He was a trainee in a tissue engineering lab and focused on 3D bioprinting. Zhang and his team applied 3D printing to the production of advanced biomaterials and the manufacturing of pristine silk-based (bio)inks. Specifically, they worked on using 3D printing techniques to help generate body tissue and materials to help with injury repair and other medical problems.
Bioprinting can be used if a person is seriously injured and their connective tissue needs repair. Through bioprinting, tissue can be regenerate in as fast as 10 minutes. Without bioprinting, the technique that's currently used is to transfer tissue from one part of the body to another, and then wait for the body to regenerate the tissue itself. That process can take six months to several years. The 3D bioprinting shortens tissue regeneration time exponentially. Other items, such as screws to hold injured bones in place, can also be manufactured with 3D bioprinting.
Bioprinting is a somewhat new concept, with the first paper applying it to the medical field published in 2019. Today, there are more published papers about this kind of technology in clinical publications. Zhang and his team recently published their research in "Nature Communications." They have two additional papers that have been accepted for publication. 
After his internship ended, Zhang became a full-time medical student and plans to focus his research on auto-immune disorders. He believes Rose's emphasis of bioinformatics also helped prepare him for Harvard. 
"The experience at Rose of gaining computational skills rather than just traditional biochemistry skills is really helpful," said Zhang. "In talking to my fellows, most of them did not have that kind of opportunity to learn that when they were undergraduates. … Rose provided me with solid background in bioinformatics."