Freeman A. Hrabowski III Speaks at Rose-Hulman MLK Jr. Day Program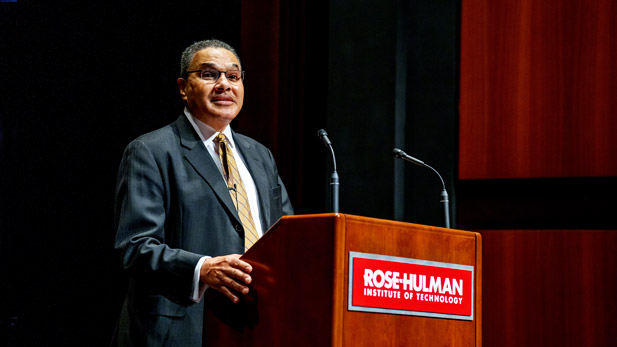 As a child leader jailed during the Civil Rights Movement in the early 1960s, Freeman A. Hrabowski III, PhD was no stranger to the struggles endured by African-Americans in their quest to end racial discrimination, segregation, and disenfranchisement.
Now President Emeritus after retiring in 2022 following a 30-year tenure as President of the University of Maryland, Baltimore County – or UMBC – Hrabowski shared his inspirational story, "Beating the Odds," in a keynote speech delivered to students, faculty and staff at Rose-Hulman's January 16 program celebrating Martin Luther King Jr. Day. 
Hrabowski shared his experience on being jailed for nearly a week as a 12-year-old child in early 1960s Alabama. He would go on to be featured in the 1997 Spike Lee documentary, Four Little Girls, about the racially motivated bombing in 1963 of Birmingham's Sixteenth Street Baptist Church.
He also spoke about the role of STEM professionals in society and how they can make a global impact in solving major problems.
"Engineers are not just people solving a math problem," Hrabowski said. "The idea is that we help people. We need people like you – and we need people of color, and we need women – to be ambassadors for engineering; to keep challenging all of us in STEM to connect into the human experience."
A graduate from Hampton Institute with highest honors in mathematics, Hrabowski received his M.A. in Mathematics and Ph.D. in higher education administration and statistics from the University of Illinois at Urbana-Champaign. He spent three decades as a transformational leader at UMBC, giving special focus to increasing opportunities and participation in science, technology, engineering, and mathematics (STEM) education to underrepresented populations.
"Freeman's inspiring story offers an important reminder to all of us about the value and importance of diversity and inclusion in the STEM fields," said Rose-Hulman President Robert A. Coons. The event was presented by the campus' Center for Diversity and Inclusion.
Hrabowski has been recognized with countless national honors in recognition of his efforts. Among those include being appointed Chair of the President's Advisory Commission on Educational Excellence for African Americans in 2012 by President Barack Obama. 
In 2022, Hrabowski was elected to the National Academy of Engineering for development of a national educational model for students from diverse backgrounds to excel in engineering and science.