Enrollment Continues to Grow as the Class of 2027 Arrives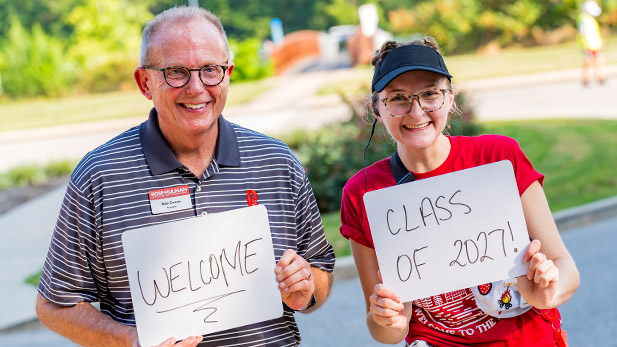 Rose-Hulman continues to experience growing enrollment as it welcomes an outstanding incoming Class of 2027, a testament to its enduring strength as an institution of academic excellence.
With more than 575 first-year and transfer students arriving on campus for the start of the upcoming academic year, enrollment at Rose continues to rise – up around 3 percent compared to Fall 2022 – with nearly 2,250 total students expected on campus for the 2023-24 academic year. Growing interest and continued focus on student success contributed to the overall increase in enrollment. 
Classes commence on Thursday, August 31. 
"Rooted in our exceptional return on investment, personal attention from our world-class faculty and staff, and outstanding career prospects, the appeal of a Rose-Hulman education resonates both nationally and globally," said President Robert A. Coons. "We received a record number of applications by Class of 2027 prospective students, which is a testament to this appeal, alongside the historic levels of interest in our visit and summer programs for high school students."
The incoming first-year class brings with it a record of academic excellence, with nearly a quarter of students ranking among the top three in their class within schools that recognize rankings. Notably, one in every 14 students holds a perfect Math SAT score, while the median SAT score in Evidence-based Reading and Writing surpasses last year's record. This class goes beyond academics, encompassing diversity in geography, race, and gender. The key attributes of the class encompass:
Students hailing from 40 states and 19 countries
22% are either first-generation attendees and/or Pell Grant recipients
29% are from demographic groups historically underrepresented in the STEM disciplines 
"In the face of persistent challenges to enroll our first-year class, including the Supreme Court's decision on affirmative action, fewer high school graduates pursuing college educations, the lasting impact of COVID on student preparedness, and increasing cost consciousness by consumers, our ability to continue to grow is a testament to the quality of learning experience our students embrace." said Tom Bear, PhD, Vice President of Enrollment Management. 
Rose-Hulman has been ranked No. 1 in undergraduate engineering education for 24 straight years by U.S. News & World Report; remains on Princeton Review's most recent Best Colleges list, ranking No. 1 in internships, and has numerous rankings for value, return on investment, career outcomes, faculty, facilities, and support services.