Downing Named Chair of KEEN Leadership Council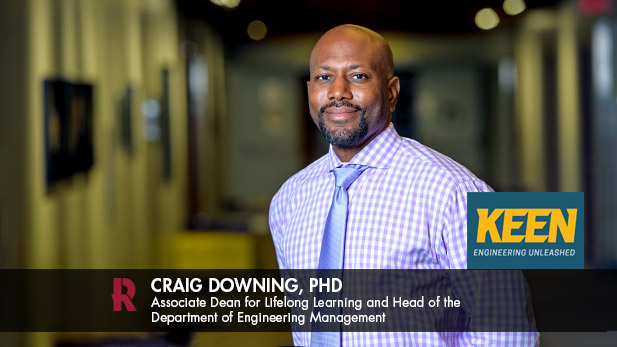 Associate Dean for Lifelong Learning and Head of the Department of Engineering Management Craig Downing, PhD, has been selected to serve as chair of the Kern Entrepreneurial Engineering Network's Leadership Council for the next three years.
The 10-person KEEN Leadership Council focuses on proposing investigations and actions that pertain to the future of engineering, education, work, integration of the entrepreneurial mindset, with emergent needs (national, societal and individual mindset) and the changing role of engineering in society.
Downing has had a significant role in Rose-Hulman's leadership position in KEEN and has helped expand and refine the Institute's academic offerings to increase the business acumen and other educational opportunities within a greater portion of students – through on- and off-campus programs. This included the establishment of the Rose Squared (R2) program that's allowing students to earn both bachelor's and master's degrees in several academic areas in just four years – and at no additional cost.
Downing also helped establish the Escalate program, which offers a living and learning community for Rose-Hulman students with the business awareness to become tomorrow's technical leaders.
Downing is a distinguished fellow of the American Society of Engineering Management, receiving the organization's meritorious service award in 2015, and has been recognized for excellence in industrial engineering teaching and learning by the Industrial Engineering and Operations Management Society International (IEOM). He also serves as advisory board chair of Liaison International's Engineering Centralized Application Service and has been a faculty mentor for Rose-Hulman's National Science Foundation-supported Making Academic Change Happen workshops, which have developed change agents at educational institutions across America.
More recently Downing was appointed as a member of Harvard Business Publishing's Educator Advisory. In this role he participates in ongoing product and audience research in collaboration with HBP's user experience team.
A recipient of excellence in service and honorary alumnus awards from Rose-Hulman, Downing earned bachelor's degrees in mechanical engineering technology from Southern Illinois University (1992) and applied mathematics and statistics from Southeast Missouri State University (2005). He has a master's degree in manufacturing systems (1994) and a doctorate degree in workforce education and development (1999), both from SIU.