Biomedical Engineering Students Get Help from Local Museum, Kids to Test Prosthetic Designs
Wednesday, January 04, 2023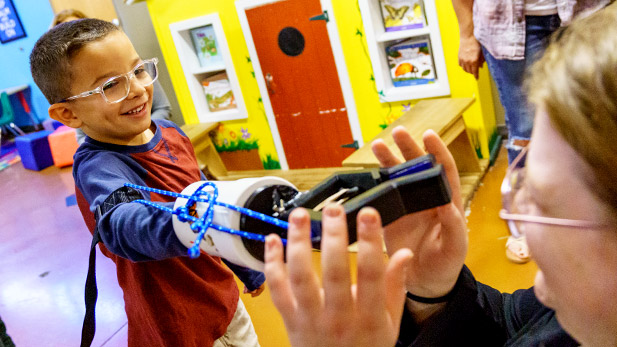 Students in Rose-Hulman's Design Methodologies (BE 218) class had the opportunity to test their biomedical devices in a real-world scenario. The Biomedical Engineering students were charged with building a child's prosthetic arm and hand that connects from the elbow. The prosthetic project was done in partnership with the Terre Haute Children's Museum. Students put their devices into action at Engineering Design Day, which took place Nov. 5, with kids testing the devices and providing real-time feedback.
The goal of class is to create a product using engineering design while following FDA Design Controls Process. Students learn to interview the client and understand their needs, while working as a team to brainstorm ideas for a product to meet those needs. Students then create device prototypes and test it with the client.
Assistant Professor of Biomedical Engineering Adel Alhalawani, PhD, teaches Design Methodologies and partnered with the Terre Haute Children's Museum on this quarter's project. Students were divided into 11 teams and assigned to different areas within the museum. They were allowed to visit the museum as needed to take measurements and familiarize themselves with the areas to understand what activities a child using the prosthetic device needed to be able to accomplish. For example, students assigned to the veterinary activity center were tasked with designing the prosthetic to hold a pet, a plastic syringe and stethoscope. Teams then went to work to design a prosthetic arm suitable for children ages six through 10.
Alhalawani believes this type of community partnership that provides hands-on learning opportunities for Rose students is an ideal model for the class.
"The kids were giving really honest and helpful feedback to the students," said Alhalawani. "One kid told the students it took too long to attach, which got the students thinking about the design elements that needed to be modified."
Natalie Hannum, a sophomore majoring in biomedical engineering, was grateful the experience provided an authentic way to practice the design process from start to finish in a practical setting. She also enjoyed seeing something she helped build have a positive impact on others.
"It's really exciting to see [the prosthetic] actually work," said Hannum. "We can test it all we want, but it's different than a kid is actually using it successfully without intervention."
Danielle Haubrich, a sophomore majoring in biomedical engineer and engineering management, was on the team whose prosthetic was tasked with mastering tasks in the museum's supermarket area. Her group focused on making sure the device can push and pull shopping carts, grab and sort plastic fruits and vegetables, and ring up groceries at the cash register. For Haubrich, the class experience confirmed her professional aspirations.
"This whole project is exactly what I want to do with my career," she said. "I've always been interested in pediatric prosthetics, so this has been a hands-on experience with what I want to do. It's been very rewarding, working with kids and learning how they are as a client."
Haubrich's favorite part of the project was applying what she's learned in the classroom to the practical setting, and admits to learning so much more about the design processt.
"It's about meeting deadlines, what happens if your supplies don't come in, working as a team, and ultimately creating something that is so much better than what you can do on your own," she said.
Alhalawani believes not only was Engineering Design Day successful for the engineering design students, but it also gives the museum's young kids an opportunity to experience STEM education in action.
"Lots of kids asked how [the prosthetics] work and how they were made," he said. "They see Rose-Hulman students doing great things and maybe, in the future, will think Rose is a place they want to be."