AskRose Math & Science Tutoring Program Expands Hours, Adds Spanish Tutors on Tuesdays to Help More Students
Wednesday, September 20, 2023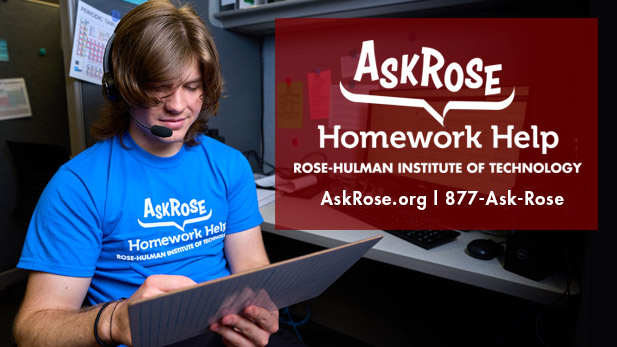 A free math and science homework help tutoring service provided by Rose-Hulman students has expanded its evening hours and added Spanish-speaking tutors on Tuesday nights to help even more Indiana students during the 2023-24 school year.
The AskRose Homework Help program is now available as early as 5 p.m. and until 10 p.m. (Eastern Time) Sunday through Thursday for tutoring sessions with students in grades six through 12. Assistance can be provided through computer screenshare, telephone call, email, or chat. Tutors can be accessed via the AskRose website, AskRose.org, or by calling 877-ASK-ROSE (877-275-7673).
Also, Spanish-speaking tutors will be available each Tuesday from 6-10 p.m. (ET).
"We're making AskRose as accessible as possible to help students when they are doing their homework and might need help understanding a challenging math or science problem. Our students are well-prepared to lend a helping hand," said AskRose program supervisor Bernadette Ewen, senior director of Rose-Hulman's Logan Library and student learning resources.
About 100 Rose-Hulman students, attending the nation's No. 1-ranked undergraduate engineering college, serve as tutors during each school year. They are specially selected upon faculty recommendations for their technical knowledge and ability to communicate with students of all skill and comprehension levels. Approximately 20 tutors are available each night and they have access to textbooks and many other resources to lend valuable assistance. The AskRose Homework Help program is certified by the National Tutoring Association.
Rather than give students the answers, AskRose tutors guide students through homework problems to help them better understand math and science concepts, the way they are taught in schools today.  
Student privacy is always protected, and students are never asked for their last name or telephone number.
The AskRose.org website also offers more than 500 resources available through videos and downloadable reference materials.
All AskRose Homework Help services are available at no cost to students and parents through Lilly Endowment Inc. support and financial assistance from Rose-Hulman.
AskRose Homework Help has conducted more than 750,000 tutoring sessions since starting in 1991.
  
AskRose Basics:
- Rose-Hulman Institute of Technology offers free math and science tutoring for students in grades 6-12. Students may call 877-ASK-ROSE (877-275-7673) to speak with a tutor, or go to the AskRose website, AskRose.org, to interact with a tutor online, with screensharing, or through email. Questions filed by email and other means are answered during AskRose's hours of operation.
- Hours of operation: 5-10 p.m. (ET), Sunday through Thursday, through May. Additional afternoon hours may be available, depending on tutor availability. (The service is closed during Rose-Hulman's holiday breaks.)
- New for 2023-24: Spanish-speaking tutors are available on Tuesdays from 6-10 p.m. (ET)
- Online resources: Students and educators may access resources and educational materials at AskRose.org.
- Sponsors: The service is supported by Lilly Endowment Inc. and Rose-Hulman.