Alumni Being Honored for Career, Community and Rose-Hulman Service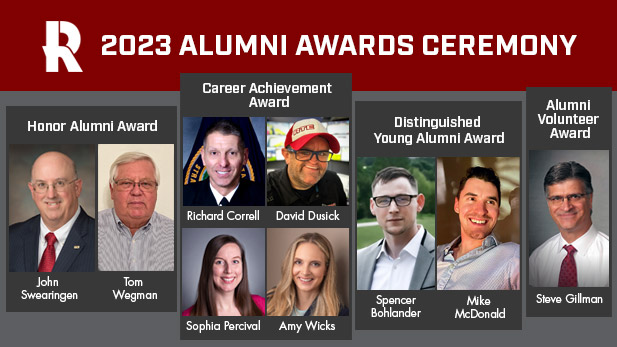 Nine alumni from a variety of academic majors will be recognized March 25 for their considerable career achievements, and service to their communities and alma mater, in the 2023 Alumni Awards ceremony at the Hatfield Hall Theater. The presentations, starting at 3 p.m., will be part of a free event that's open to the public, but advanced registration is required.
Rose-Hulman and its Alumni Association annually honors alumni who have distinguished themselves throughout different stages in their careers. They have applied the skills and lessons learned on campus toward betterment within their professions and communities, while faithfully supporting the institute and its continued mission of educating tomorrow's science, engineering and mathematics leaders, according to President Robert A. Coons. 
A new award is honoring an alumnus for outstanding volunteerism and support of Rose-Hulman.
This year's honorees are: 
Honor Alumni Awards
The association's highest alumni award recognizes exceptional achievement in any career field, vocational and service to society. 
John Swearingen: A 1981 chemical engineering alumnus had a 39-year career with Marathon Petroleum Corporation, retiring in the fall of 2020 as executive vice president of logistics and storage. Along his career pathway he served as an advisor for the Department of Chemical Engineering and provided scholarships to support Rose-Hulman students. In 2022, John and his wife, Anne, made a $2 million donation to establish the department's first endowed faculty professorship, along with supporting laboratory and technology modifications. The High Bay Laboratory of Olin Hall is named in the couple's honor.
Tom Wegman: The 1967 mechanical engineering graduate never forgot his humble roots or the value of hard work. That led him to have a rewarding career contributing to NASA's Skylab project and becoming a partner and board chair with Stevens Industries in his hometown of Teutopolis, Illinois. In a 45-year career with the company, before his retirement in 2015, Wegman helped build the company's domestic market base through his innovative, forward-thinking business approaches.
Career Achievement Award
This honor highlights alumni whose professional achievements have brought distinction to themselves, credit to Rose-Hulman and benefit their communities.
Richard Correll: The 1986 chemical engineering alumnus is a vice admiral in the U.S. Navy and deputy commander of the U.S. Strategic Command. He's second in charge of necessary command and control that helps keep America and its allies safe. Correll previously was responsible for the Strategic Command's intelligence and warfare systems, commanded elements of the Navy's nuclear submarine group, and assisted the Deputy Under Secretary of Defense for strategic planning and military forces.
David Dusick: The 1999 mechanical engineering graduate combined his interests in motorsports and engineering to found and lead RaceTrack Engineering, which has supported more than 150 racing facilities, major events and private country clubs throughout the country. He also formed the charitable Dave Dusick Foundation that benefits the Riley Hospital for Children and is a motivational public speaker.
Sophia Percival: The 2009 biomedical engineering alumna is director of drug product manufacturing with Catalent Pharma Solutions. During the pandemic she led production on four aseptic filling lines, three of which were the primary suppliers of the Moderna COVID-19 vaccine. She has been recognized for supporting women in the workplace and participation in community Habitat for Humanity's Women Build projects.
Amy Wicks: The 2004 civil engineering alumna has become an advocate for sustainable design practices that she implemented to Babcock Ranch, a living laboratory for sustainability northeast of Fort Myers, Florida, that's been designed to be storm resistant. Those principles survived a crucial test during Hurricane Ian in September 2022. Her design strategies are now being used in other communities to combat climate change.
Distinguished Young Alumni Award
Alumni are recognized for achieving significant success within their first 10 years after graduation in the areas of career accomplishments, community service and dedication to Rose-Hulman.
Spencer Bohlander: The 2013 mechanical engineering alumnus has been an accomplished oil drilling supervisor and engineer throughout Texas. In 2022 he co-founded an entity that's striving to develop the world's most advanced, proactively adaptive, and genuinely sustainable source of energy. He has contributed to other award-winning innovations in the energy industry. 
Mike McDonald: The 2014 computer engineering and computer science graduate, with minors in mathematics and robotics, is working to align the future of computing and climate through computer platforms that make software development faster, easier and more accessible. He is a product manager with Crusoe after working on innovative projects with Google, GitHub and Firebase.
Alumni Volunteer Award
This new honor recognizes alumni who have donated significant time in their volunteer efforts to Rose-Hulman, toward the advancement of STEM education, in professional/industrial groups and organizations, and within their community.
Steve Gillman: The 1979 chemical engineering alumnus spent 35 years with Eli Lilly and Company, retiring as vice president of health, safety and environment. He now serves on the boards of community service groups Starfish Initiative, Bread for the World-Indiana, Indianapolis Public School's SUPER School, THRIVEFunds, and Rook's Resources Inc., and supports several STEM education initiatives in central Indiana.
As part of this year's Alumni Awards, the Alumni Association also will recognize faculty and staff members along with a student for demonstrating strong and selfless commitment to the institute and its students and alumni, along with professional achievement and dedication to the betterment of their departments. Recipients of those awards will be announced later.