Triangle Fraternity Wins $100,000 National 'Building Better Men' Award
Friday, September 30, 2022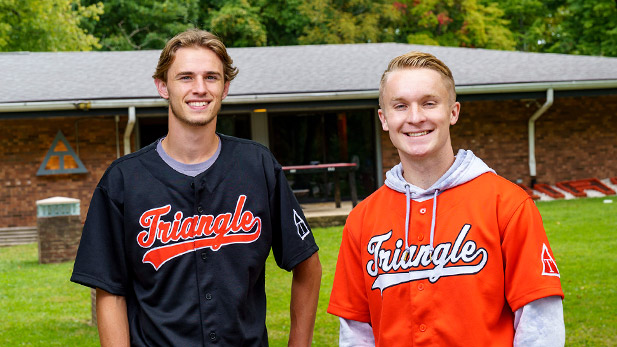 Rose-Hulman's Triangle fraternity chapter has earned the $100,000 first-place prize as this year's recipient of the Larry and Judy Garatoni Building Better Men Program for academic success, leadership, community and campus service, philanthropy, and chapter growth.
The award was presented at the fraternity's national convention in Orlando, Florida.
This competitive recognition among all chapters nationwide is helping provide seed money to support the Rose Tech chapter's plans to possibly construct a new chapter house on campus, according to 2022 chapter president Luke Dawdy. 
"This award recognizes that our chapter is headed in the right direction and supports long-range plans for the chapter to get even stronger," said Dawdy, a senior computer engineering major.
Rose-Hulman's chapter, a member of the institute's Greek Life system, currently has nearly 60 members, with 28 new members – one of its largest recruitment classes – joining the group during the 2021-22 school year. The membership's 3.264 cumulative grade-point average for the 2021-22 academic year was higher than the collective academic mark for all students at the college last year. Members were involved in more than 30 campus organizations and five varsity athletic teams, with several holding executive or key leadership roles.
In the area of philanthropy, Triangle chapter members assisted in service projects that included a Praying Pelican Missions trip to a community in Belize last spring, assembling bicycles for Terre Haute Chances and Support of Youth's Bikes For Tykes holiday project, assisting a variety of campus fundraising events, and supporting the national Triangle fraternity's FIRST Robotics program.
The chapter's Philanthropy Chair Connor Patton, a junior mechanical engineering student, earned honors at the national convention for his leadership in organizing campus and community service activities.
Dawdy says, "Our chapter is committed to be a valuable partner on campus, within the Terre Haute community, nationally, and now internationally. Last year's Belize mission trip was so inspiring for our participating members that we're planning an even bigger and better effort this spring (2023)." 
Other 2022 chapter officers include Vice President Andrew Edge, a senior mechanical engineering major; Secretary Will Hawkins, a junior computer science and mathematics student; Treasurer Zach Stolberg, a senior chemical engineering student; House Manager Caleb Urban, a senior civil engineering major; Steward Cade Liehr, a junior mechanical engineering student; and Activities Director Andy June, a junior optical engineering major.
A total of 32 members currently live in the group's campus house that opened in 1968. Officers are starting to meet with chapter alumni and Rose-Hulman officials about plans to construct a new house or make improvements to the current building.
Founded at the University of Illinois in 1907, the Triangle Fraternity has grown to become the nation's premier fellowship for men majoring in the fields of engineering, architecture and the sciences. There are nearly 1,100 active members and 22,200 living alumni members from 37 chapters and colonies across America.