The Swingles Coming to Hatfield Hall
Tuesday, November 29, 2022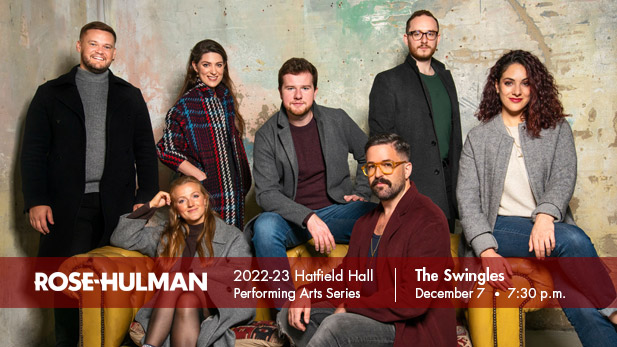 With their natural flair as entertainers, the Swingles are one of the world's most admired and loved vocal groups. The group's stylish shows have taken them to venues and festival stages across the world and they'll be playing at Rose-Hulman's Hatfield Hall on Wednesday, December 7, at 7:30 p.m. The show is part of the 2022-23 Performing Arts Series. 
Praised for their "stunning reinventions... audacious harmonies... and superhero singing to truly raise goosebumps" (The Guardian), The Swingles have earned five Grammy Awards, among their prestigious international accolades. With generations of fans from their live performances and appearances on film and TV soundtracks, The Swingles' musical evolution and creative drive makes them as relevant today as when the group first formed – nearly six decades ago.
With their trademark vocal dexterity, The Swingles leap from genre to genre, reinventing jazz, classical, folk, pop and world music from their ever-growing repertoire of arrangements alongside a rich vein of new original material. The group's secret ingredient is the ability of the seven singers, soloists, songwriters and storytellers to combine as one seamlessly blended and timeless sound.
Tickets for the Swingles are $35 for adults, $30 for those under 18 years old and for Rose-Hulman faculty and staff, and free for Rose students with a valid identification card. Tickets can be purchased at hatfieldhall.com, by calling 812-877-8544, or visiting the Hatfield Hall ticket desk Tuesday through Friday from 9 a.m. to 2 p.m. If still available, tickets also could be purchased at the ticket desk beginning one hour before the show.