The Modern Gentlemen Coming to Hatfield Hall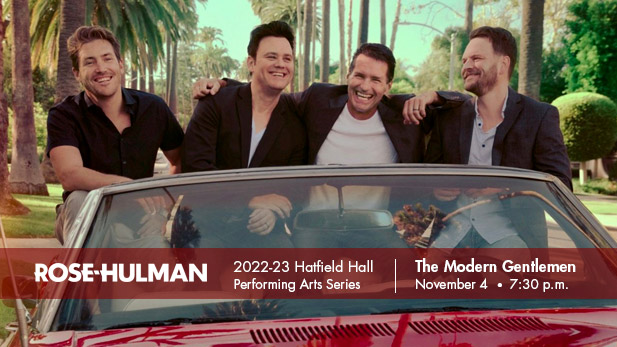 With a blend of silky harmonies mixed with throwback nostalgia and a bit of contemporary style, The Modern Gentlemen bring their signature sound to Hatfield Hall stage on Friday, November 4, at 7:30 p.m. The show is part of the 2022-23 Performing Arts Series. 
Originally brought together by legendary singer Frankie Valli, The Modern Gentlemen is composed of Landon Beard, Todd Fournier, and brothers Brian Brigham and Brandon Brigham. For more than a decade, the dynamic quartet toured with The Four Seasons, wowing audiences across the globe.
During their tenure with The Four Seasons, the quartet developed their own identity and style. Valli heard something unique in them and gave his blessing to start their own group for the next generation. The Modern Gentlemen began entertaining audiences as their own signature act, becoming known as an internationally recognized vocal group.
 The Modern Gentlemen have performed on some of the most famous stages, including Royal Albert Hall, with the London Symphony Orchestra, and BBC Proms in The Park, for more than 40,000 people. In the United States, they have performed in A Capitol Fourth in Washington, D.C., with Michael McDonald, Patti LaBelle, John Williams, and others. They've also headlined in Las Vegas and started their own residency in Atlantic City, New Jersey.  
Tickets for The Modern Gentlemen are $35 for adults, $30 for those under 18 years old and for Rose-Hulman faculty and staff, and free for Rose students with a valid identification card. Tickets can be purchased at hatfieldhall.com, by calling 812-877-8544, or visiting the Hatfield Hall ticket desk Tuesday through Friday from 9 a.m. to 2 p.m. If still available, tickets also could be purchased at the ticket desk beginning one hour before the show.