Physics, Optical Engineering & Engineering Physics Students Honored for Academics, Lab Successes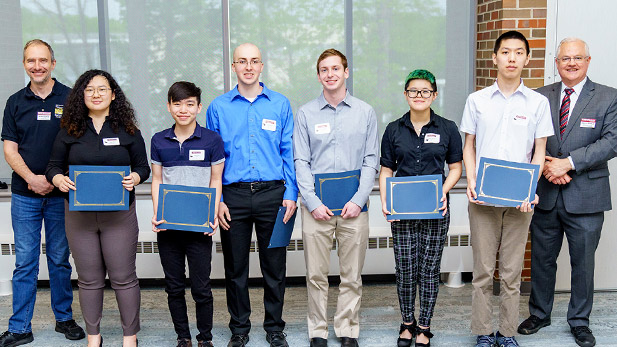 Twenty-five graduating seniors and underclass students were recognized by the Department of Physics and Optical Engineering for outstanding academic, research, laboratory, and extracurricular experiences. Department head Galen Duree and other faculty members presented the honors.
Nathalie Grier received the John W. Rhee Memorial Award as the outstanding graduating senior physics majors. Grier, from Elburn, Illinois, was a physics and mathematics major, with a minor of software engineering. Rhee was an inspiring teacher, outstanding scholar and professor in the department from 1965-77.
Margaret Luffman earned the Jean M. Bennett Award as the outstanding optical engineering graduating senior after demonstrating excellence in optics studies on campus. Luffman was an optical engineering student from Nashville, Tennessee. Bennett was a research scientist and first woman president of the Optical Society of America. 
Jiaqi Shen was honored as the outstanding senior engineering physics student, based upon academic performance and, in the opinion of department faculty, for exhibiting leadership qualities. He is a fifth-year engineering physics student from Hohhot, China.
Peyton D. Miller received the C. Leroy Mason Award as the outstanding sophomore physics major. He is majoring in physics and optical engineering from New Palestine, Indiana. Mason was a dedicated RHIT physics professor from 1945-66. 
Janine Dias earned the Lynn Coyle Award as the outstanding sophomore who exhibits high enthusiasm for studying engineering physics. Dias is an engineering physics and optical engineering student. Coyle is a 1972 physics graduate who worked in the oil and gas industry.
Presented the Sophomore Physics and Optical Engineering Award was Arjent Imeri, an optical engineering and engineering major from Terre Haute. The award is based upon outstanding academic achievement and promise as a future optical engineer.
The following students were presented with certificates for completing minor academic requirements within the department:
Physics – Cory Reck, a 2022 mechanical engineering graduate from Lowell, Indiana
Optical Engineering – Macallister Bishop, an engineering physics alum from Plainfield, Illinois, and Riley O'Connell, a mechanical engineering graduate from Granger, Indiana
Astronomy – Hollee Trent, a mathematics graduate from Champaign, Illinois; Iris Zhao, a physics alumna from Binzhou, China; and Jingyu Zhao, a mechanical engineering graduate from Chengdu, China
Semiconductor Materials and Devices – Jack Davidson, a computer engineering graduate from Columbus, Ohio; Zachary Kelly, a computer engineering and computational science alum from Lafayette, Indiana; Brendan King, an electrical engineering and mathematics graduate from Lewisville, Texas; Haiden Smith, an electrical engineering graduate from Manhattan, Illinois; Daniel Su, an electrical engineering graduate from Dededo, Guam; Audrey Walters, an electrical engineering alumna from Evansville, Indiana; John Wilson, a computer engineering graduate from West Lafayette, Indiana; and Yuecen Yan, an electrical engineering graduate from Changchun, China
Medical Physics and Nanomedicine Minor – Colin Beach, a biochemistry alum from Centerville, Ohio; Macallister Bishop, an engineering physics alum from Plainfield, Illinois; Liam Groom, a biomedical engineering graduate from Smithton, Illinois; Ian Lesnik, a physics alum from Aurora, Illinois; and Jingyu Zhao, a mechanical engineering graduate from Chengdu, China