Mechanical Engineering Student Josh Wilmerding Spends Summer Internship with Team Penske
Tuesday, November 15, 2022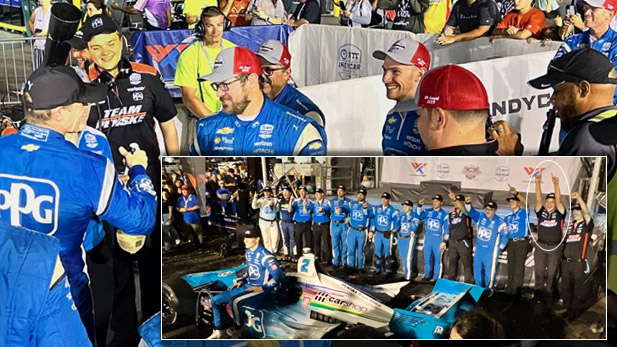 From a young age, Josh Wilmerding has loved the world of NASCAR racing. Wilmerding, a junior majoring in mechanical engineering, spent the summer as an intern with Penske Racing and worked alongside two-time 2022 Indycar Race Champion Josef Newgarden and Team Penske President Tim Cindric, a Rose-Hulman alumnus. The internship solidified his goal of working in the field of racing.
Wilmerding's internship involved data-driven projects related to racing, as well as strategy planning. He worked on rearranging data to make it more visible and easier to navigate using filtering methods. Wilmerding also used coding to help Penske develop an applet that uses real racetrack data to create racing simulations. One of his projects examined data and tire degradation.
"You can look at that data over certain racetracks and then filter it down to the cars … where they were on the track, track temperatures and external factors," said Wilmerding. "You can then use that to predict racing conditions. That's what makes this type of data work so relevant and groundbreaking."
The internship provided Wilmerding with many valuable opportunities, but his most memorable was attending a race at Gateway Motorsports Park in St. Louis where Team Penske won.
"I was able to be part of the pit box, wear a headset and listen to the radio communications and stand next to Tim," said Wilmerding. "We got to be a part of Victory Lane [NASCAR's post-race show]. And I built a good relationship with the people in the 2-car team, including the data engineer."
Wilmerding credits Rose for helping him prepare for the internship experience.
"I think I stood out with my academic background and because I was involved with the Grand Prix Engineering team at Rose," said Wilmerding. "I took a vehicle dynamics seminar at Rose that also helped because it gave me familiarity and confidence going into my internship."  
Wilmerding's love of car racing began one childhood afternoon when his father was watching it on television. The Fairfield, California, native started to pay attention to the sport and noticed number patterns. He started helping at local kart racing shops and go kart tracks in neighboring cities of Sonoma, Auburn, and Napa.
He knew he wanted to attend college in one of the two racing centers of America: Indiana or North Carolina. Wilmerding attended Operation Catapult on the Rose-Hulman campus between his junior and senior years of high school. While attending Catapult, he encountered a display featuring Cindric, a 1990 mechanical engineering graduate. Wilmerding was familiar with Cindric through racing; finding out he is an alumnus sealed the deal to make Rose his college choice. 
He had the opportunity to meet Cindric when Cindric was visiting Rose in spring 2021 as the Commencement speaker. Wilmerding gave him a tour of campus and they got to know each other over lunch. Wilmerding kept in touch with Cindric, who promised to keep him in mind for future internship opportunities. Their connection is representative of how Rose-Hulman alumni often interact with students.
Wilmerding, who is also a Noblitt Scholar, plans to work as a data strategist in the racing field after graduation. He is also minoring in data science to further this goal and hopes to return to Team Penske to intern again next year. 
"I've always loved math and using data to see what others don't always see," said Wilmerding. "There's a big statistics and data science revolution that's happening in the racing industry right now and it's really exciting."