Hatfield Hall Offering 2022-23 Season of Entertainment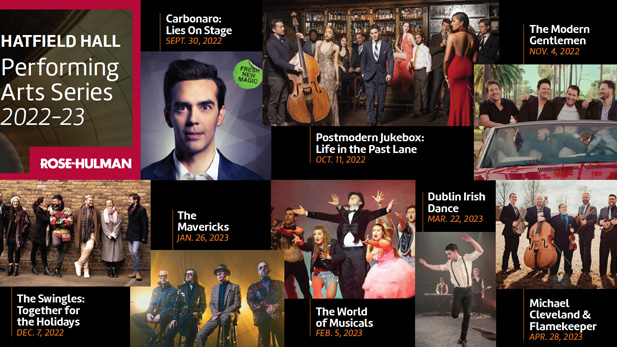 From eclectic magicians to country music superstars to a Charles Dickens' classic, the 2022-23 season of the Rose-Hulman Performing Arts series and student group performances offer entertainment for the entire family. Here's a preview of what's coming to the Hatfield Hall Theater stage this school year:
Carbonaro: Lies on Stage
September 30, 2022, 7:30 p.m.
The Performing Arts Series kicks off with the inaugural new show and theatrical tour from magician Michael Carbonaro. From his hit television series "The Carbonaro Effect" on truTV, Carbonaro conjures up an evening of unbelievable magic, hysterical offbeat shenanigans and wonder for audiences of all ages. 

Postmodern Jukebox: Life in the Past Lane
October 11, 2022, 7:30 p.m.
Postmodern Jukebox is a rotating musical collective founded by arranger and pianist Scott Bradlee in 2011. The group is known for reworking popular modern music into different vintage genres, especially early 20th century forms such as swing and jazz. Postmodern Jukebox shows offer an unforgettable trip back in time.

Rose Drama Club Fall Drama: "Clue"
October 21 and 22, 7:30 p.m.
October 23, 1:30 p.m.

Was it Miss Scarlett in the ballroom with the revolver? Or Mr. Green in the kitchen with the knife? Based on the iconic 1985 Paramount movie that was inspired by the classic Hasbro board game, "Clue" is a hilarious farce-meets-murder mystery.

The Modern Gentlemen
November 4, 2022, 7:30 p.m.
For well over a decade, The Modern Gentlemen wowed audiences across the globe while touring with the iconic group The Four Seasons. This premier quartet of singers is a perfect blend of silky harmonies mixed with throwback nostalgia and modern style.
 
Rose-Hulman Music Ensembles' Fall Concert
November 9, 2022, 7:30 p.m.
The Rose-Hulman music ensembles celebrate the 20th anniversary of their home in Hatfield Hall. This performance features a variety of musical genres and styles. It is free and open to the public (no tickets required; first-come, first-served seating).
 
The Swingles: Together for the Holidays
December 7, 2022, 7:30 p.m.
With a natural flair as entertainers, The Swingles have taken their stylish shows to venues and festival stages across the world. Their trademark vocal dexterity has The Swingles leaping from genre to genre, reinventing jazz, classical, folk, pop, and world music from their ever-growing repertoire of arrangements alongside a rich vein of new original material.
 
Rose-Hulman Music Ensembles' Holiday Pops Concert
December 11, 2022, 1:30 p.m.
It's the most wonderful time of the year with the Rose Holiday Pops Concert. The concert band, chorus, symphony, and jazz ensemble will perform holiday classics to kick off the season. This event is free and open to the public (no tickets required; first-come, first-served seating).
 
Rose Drama Club Winter Show: "A Christmas Carol"
December 16 and 17, 2022, 7:30 p.m.
December 18, 1:30 p.m.
Charles Dickens' holiday classic recounts the story of Ebenezer Scrooge, an elderly miser who is visited by the ghost of his former business partner Jacob Marley and the spirits of Christmas Past, Present and Future. The Rose Drama Club production will have a modern twist to this popular production.
 
The Mavericks
January 26, 2023, 7:30 p.m.
Eclectic rock and country group The Mavericks is known for crisscrossing musical boundaries with abandon. The group takes the stage on the heels of their No. 1 Billboard debut of their first all-Spanish album, "En Español." While all 12 tracks are in Spanish, as the title suggests, the collection represents a diversity of musical styles and cultural traditions, from tender boleros to brassy mariachi to reimagined Afro-Cuban classics.
 
The World of Musicals
February 5, 2023, 7:30 p.m.
This concert has graced stages across the globe and features a world-class ensemble of multi-talented artists who exquisitely perform classic hits, fused with emotive ballads, big-screen anthems and iconic show tunes. From the best of "The Phantom of the Opera" and "Les Miserables" to "We will Rock You, "Sister Act" and many more, the World of Musicals delivers a stirring musical concert theatre experience that will leave audiences spellbound.


Engineers in Concert 
February 10, 2023, 7:30 p.m.
The entire Rose-Hulman community comes together to celebrate art, music and dance in this showcase of campus talent. Help celebrate the grand return of this campus-wide celebration of the arts. This event is free and open to the public (no tickets required; first-come, first-served seating).
 
Dublin Irish Dance — Wings: A Celtic Dance Celebration (Updated February 6)
February 20, 2023, 7:30 p.m.
"Wings" is a new Irish dance production created in Ireland by a critically acclaimed artistic team. Like no other show in its genre, the performance features exquisite Irish and world champion dancers together with Ireland's finest musical and vocal virtuosos. Complete with original music and choreography, this ground-breaking production will thrill audiences with its transformative emotional energy and imaginative design.
 
Rose Drama Club Spring Musical: "Frankenstein: A New Musical"
April 21 and 22, 7:30 p.m.
April 23, 1:30 p.m.  
In his quest to discover the secret of life, brilliant young scientist Victor Frankenstein creates a human of his own design that turns out to instead be a horrifying beast. This is no "Hollywood monster," but a flesh-and-blood man who, while terrifying in appearance, grows to become articulate, cunning and thirsting for revenge upon the creator who abandoned him.
 
Michael Cleveland & Flamekeeper
April 28, 2023, 7:30 p.m.
Michael Cleveland's musical momentum began when he learned to play fiddle at age four. When he was nine, Cleveland was invited to sit with the legendary Bill Monroe at the Bean Blossom Bluegrass Festival. Soon after, he brought his virtuosic style to the Grand Ole Opry as a guest of Alison Kraus and was hand-picked for the International Bluegrass Music Association's Bluegrass Youth Allstars.
 
Rose Concert Band Spring Concert
May 7, 2022, 1:30 p.m.
Join the Rose-Hulman Concert Band for their spring concert complete with thrilling marches and toe-tapping tunes. This event is free and open to the public (no tickets required; first-come, first-served seating).
 
Rose Symphony Spring Concert
May 14, 2022, 1:30 p.m.
Made up of Rose-Hulman students, faculty and members of the community, this talented group of musicians presents their annual spring concert. This event is free and open to the public (no tickets required; first-come, first-served seating).
 
Rose Jazz Ensemble and Choir Spring Concert
May 14, 2022, 5:30 p.m.
Join the Rose Jazz Ensemble and Choir as they perform toe-tapping hits from various styles of jazz music, and popular songs from the music of yesterday and today. This event is free and open to the public (no tickets required; first-come, first-served seating).
Learn more about the upcoming season here.

Prices vary for each Performing Arts Series and Drama Club performance and concert. Tickets can be purchased at Hatfieldhall.com, by calling 812-877-8544, or visiting the Hatfield Hall ticket desk Tuesday through Friday from 9 a.m. to 2 p.m. If still available, tickets also can be purchased at the ticket desk beginning one hour before each show.