Dosmar Receives Course Hero Grant to Support Ungrading Project in STEM Courses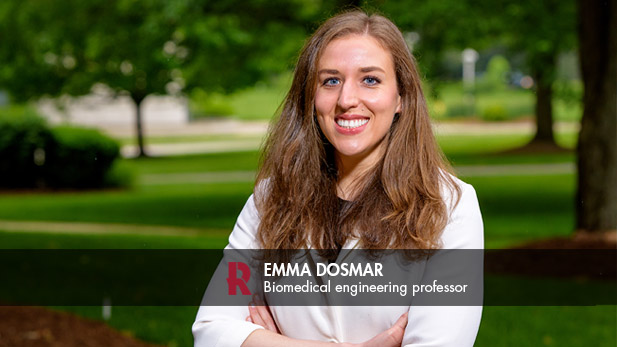 Assistant Professor of Biomedical Engineering Emma Dosmar, PhD, is among 51 higher education educators to receive funding from a new grant program launched by online learning platform Course Hero to experiment with digital pedagogies and drive social change in science, technology, engineering, and mathematics (STEM) education.
Dosmar's "dream project" will be exploring ungrading techniques in her first-year Matlab course and project-based learning practices in other STEM courses. She has become an advocate for ungrading and has made several invited professional talks and presentations along with publications on the topic.
"Grades hold us back," Dosmar says. "Students seek easy and predictable routes to achieve their desired grade and in turn, instructor feedback has less impact and goes largely ignored. Ungrading provides an attractive alternative to traditional grading schemes and offers the potential to motivate students and faculty anew." 
Selected through a blind review process by a team of Course Hero staff who were, themselves, former educators, Dosmar's grant proposal was selected from among 374 faculty projects submitted—an approval rate of less than 15%—for this fall's academic term. 
"The creativity and aspirations of the hundreds of faculty who submitted were inspiring, and the makeup of the applicant pool truly reflected the breadth and diversity of faculty across disciplines, institutions and passions," stated Sean Michael Morris, vice president of academics at Course Hero, in a press release announcing the grants. "We were especially impressed by the focus on experimentation with new and emergent pedagogies. At the start of the pandemic, digital learning approaches were deemed a short-term solution, but a growing number of faculty now use them as an integral piece of the puzzle."
Dosmar and other grant recipients will be recognized at Course Hero's fifth-annual educator summit, taking place virtually July 28-29. More than 5,000 educators, researchers and instructional designers will convene around this year's theme, "Learning Together, Teaching Together," to discuss the latest in learning and pedagogy. Dosmar is an invited speaker at the summit and will lead a workshop about ungrading in STEM.
A member of the Rose-Hulman faculty since the 2017-18 academic year after serving previously as a visiting professor, Dosmar teaches courses in biomaterials, tissue engineering, tissue-biomaterial interactions, and engineering design, and has conducted research on biomaterials, drug delivery and ocular drug delivery. She earned a bachelor's degree in biomedical engineering from Rose-Hulman in 2011 and a doctorate in biomedical engineering from Illinois Institute of Technology in 2017.