Design Event Hoping to SPARK! High School Students' STEM Interests
Friday, February 11, 2022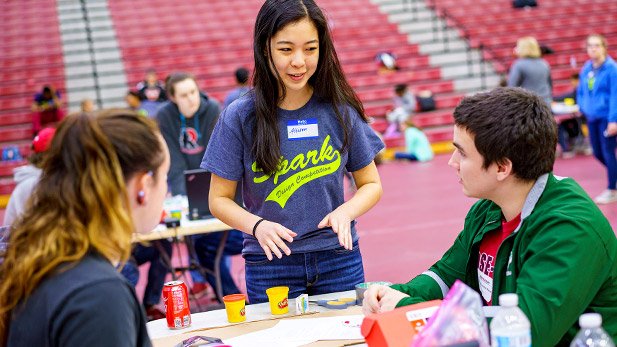 High school students can have fun collaborating designing creative projects in Rose-Hulman's SPARK! event March 12, from 1-4 p.m. Eastern Standard Time. The event strives to stimulate youths' interests in science, technology, engineering, and mathematics, regardless of their backgrounds and current future study plans in high school and college.
SPARK! stands for Student Projects Advocating Resourceful Knowledge. This year's competition will have projects centered around outer space dealing with robotics and decoding wireless communications.
The free event has been organized by Rose-Hulman's Building Undergraduate Diversity (Rose-BUD) program to give high school students the opportunity to use creativity, problem-solving skills and teamwork to complete activities. 
Students wishing to participate must register online at http://bit.ly/244pQpY by March 5.
Teams with the best technical and creative designs, as determined by student judges, will win prizes provided by the Rose-BUD program. Snacks will be provided for all participants.
The event is currently planned to be conducted in Rose-Hulman's Sports and Recreation Center and will adhere to the college's current COVID-19 health and safety protocols, including wearing face masks and following social distancing procedures.
The Rose-BUD program is a networking and professional development organization focused on increasing girls and underrepresented group inclusion, specifically in the areas of computer science, software engineering, electrical engineering, and computer engineering. High school seniors with approved applications for Rose-Hulman enrollment are eligible for Rose-BUD scholarships. Find out more about these opportunities at www.rose-hulman.edu/rosebud.