Chemical Engineering Names Winter 2021-22 Noel E. Moore Achievement Award Recipients
Friday, February 18, 2022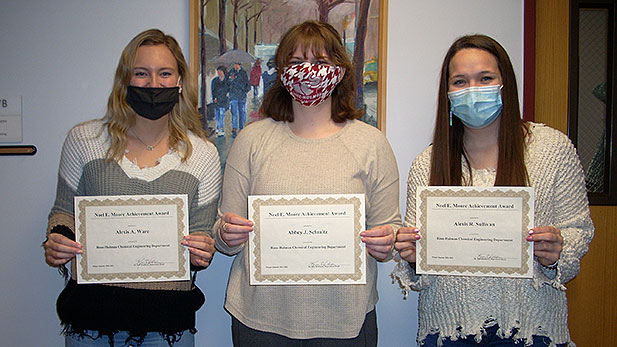 The Department of Chemical Engineering has announced the winners of the Noel E. Moore Achievement Award for the winter quarter 2021-22.
The winners are sophomore Alexis A. Ware, junior Abbey J. Schmitz, and senior Alexis R. Sullivan.
Each quarter, the department recognizes academic excellence on the part of our students. The awards are named in memory of Professor Noel E. Moore, an outstanding educator and faculty leader on campus for 30 years. Moore served for a decade as head of the Department of Chemical Engineering, was an early leader of Operation Catapult, and was a key advocate for making the institute co-educational. He was named an emeritus faculty member after his retirement in 1998. He passed away in 2018.
WINTER QUARTER 2020-21 NOEL E. MOORE AWARD WINNERS
Alexis A. Ware (Sophomore)
Alexis Ware is recognized for her positive attitude and perseverance in the classroom. Dr. Kim Henthorn, department head and associated professor, says that professors note that Alexis works very hard to learn from her mistakes and is not afraid to ask questions if she is unsure of something. "Her upbeat personality makes her a joy to have in the classroom, and she is always willing to work with others. Congratulations on your Noel Moore Award, Alexis!"
Abbey J. Schmitz (Junior)
Abbey Schmitz is being recognized for her positive contributions to the classroom environment and to the Institute at large. "Abbey asks insightful questions in her classes, leading to a constructive learning environment for her and her classmates," Henthorn says. "She has a strong work ethic and always seeks to fully understand course material. Beyond the classroom, she gives back to the Rose-Hulman community by acting as a resident assistant. She also served as the head counselor for the Summer 2021 sessions of Project SELECT. Congratulations, Abbey!"
Alexis R. Sullivan (Senior)
Alexis Sullivan is recognized for her focus and effort in the classroom. "Her willingness to answer questions and initiate discussions improves the engagement of the entire class," Henthorn says. "She sparks enthusiasm that ignites the classroom. Her positive attitude finds the upside in every situation. It is a pleasure having Alexis in class. Congratulations, Alexis!"