Chemical Engineering Names Spring 2021-22 Noel E. Moore Achievement Award Recipients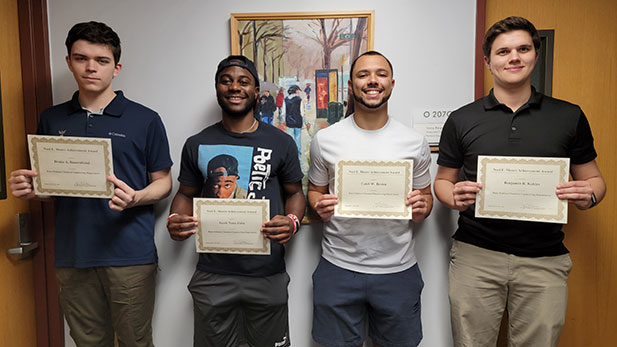 The Department of Chemical Engineering has announced the winners of the Noel E. Moore Achievement Award for the spring quarter 2021-22.
The winners are sophomore Drake A. Bauernfeind, junior Jacob Nana Fabu, and seniors Caleb W. Brown and Benjamin R. Kahles.
Each quarter, the department recognizes academic excellence on the part of our students. The awards are named in memory of Professor Noel E. Moore, an outstanding educator and faculty leader on campus for 30 years. Moore served for a decade as head of the Department of Chemical Engineering, was an early leader of Operation Catapult, and was a key advocate for making the institute co-educational. He was named an emeritus faculty member after his retirement in 1998. He passed away in 2018.
SPRING QUARTER 2021-22 NOEL E. MOORE AWARD WINNERS
Drake A. Bauernfeind (Sophomore)
Drake Bauernfeind is recognized for his dedication to his coursework, including the care and detailed approach he takes to learning new information with a great attitude. Dr. Kim Henthorn, department head and associated professor, says that professors note that Drake "is considerate and engaged, and elevates the standard of learning in his classes with his approach to his studies. Great work, Drake!"
Jacob Nana Fabu (Junior)
Jacob Nana Fabu is recognized for his exemplary work ethic, inquisitiveness, and eagerness to make connections between theory and practice. "He always participates in class discussions regardless of the format, in-person or virtual," Henthorn shares. "His thoughtful questions quite often spark conversations to the benefit of the entire class. He never looks bored and provides motivation for his peers. Congratulations, Jacob, keep up the positive attitude!"
Caleb W. Brown (Senior)
The CHE faculty want to recognize Caleb Brown for his thoughtful and dedicated approach in his coursework and design projects. "Caleb has been an active member of his design team, seeking feedback from his teammates and mentors while maintaining a positive attitude through the many iterations required for design," Henthorn notes. "Outside of class, Caleb is a 4-year varsity letter winner on the football team and a member of several student organizations including NSBE and Phi Gamma Delta. Congratulations, Caleb!"
Benjamin R. Kahles (Senior)
Ben Kahles is recognized for his inquisitiveness and commitment to learning. "Ben's internal motivation to grow intellectually leads to asking thoughtful questions in the laboratory and the classroom, making a more dynamic environment for students and instructors," Henthorn says. "He actively seeks to make connections between concepts learned in various courses and real life observations and regularly reviews and learns from previous assignments. Congratulations, Ben!"