Chemical Engineering Names Fall Quarter 2022-2023 Noel E. Moore Achievement Award Recipients
Thursday, November 10, 2022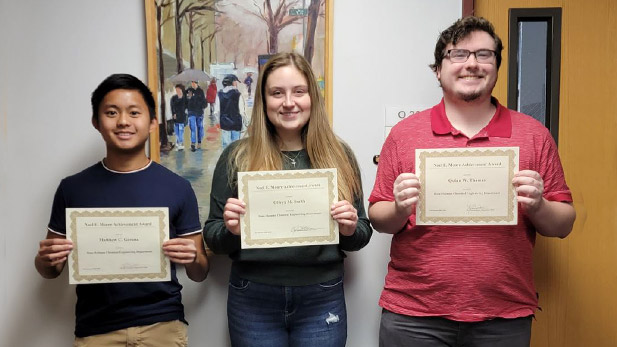 The Department of Chemical Engineering has announced the winners of the Noel E. Moore Achievement Award for the fall quarter 2022-2023.

The winners are sophomore Matthew C. Gerona, junior Olivya M. Smith, and senior Quinn W. Thomas.

Each quarter, the department recognizes academic excellence on the part of our students. The awards are named in memory of Professor Noel E. Moore, an outstanding educator and faculty leader on campus for 30 years. Moore served for a decade as head of the Department of Chemical Engineering, was an early leader of Operation Catapult, and was a key advocate for making the institute co-educational. He was named an emeritus faculty member after his retirement in 1998. He passed away in 2018.
FALL QUARTER 2022-2023 NOEL E. MOORE AWARD WINNERS
Matthew C. Gerona (Sophomore)
Matt Gerona is recognized for his curiosity, focus, and thoughtful participation in the classroom environment. Dr. Kim Henthorn, department head and associated professor, says that professors note that, "Matt asks insightful questions and engages regularly with his peers during in-class activities. He has demonstrated a strong work ethic and a sincere desire to learn. Outside of the classroom, Matt is an active participant in the men's cross country team, Student Government Association, and Student Activities Board. Congratulations, Matt!"

Olivya M. Smith (Junior)
Olivya Smith is being recognized for her positive contributions to the classroom environment and consistent growth in educational endeavors, Henthorn notes. "Olivya enthusiastically participates in class, answering questions, working collaboratively with others, and making connections between different classes and real world applications. She is proactive about asking questions that advance her understanding of material and is eager to learn from feedback. Outside the classroom, she serves as the current president of the student chapter of AIChE. Keep up the great work, Olivya!"

Quinn W. Thomas (Senior)
Quinn Thomas was selected for the Noel Moore award due to his love of learning and high level of engagement with course material, which creates a positive environment in the classroom, Henthorn shares. "Quinn is clearly excited to learn and grow, and his enthusiasm for knowledge is contagious and elevates the classroom. Congratulations, Quinn!"