Virtual Event Hoping to SPARK High School Students' STEM Interests
Tuesday, February 09, 2021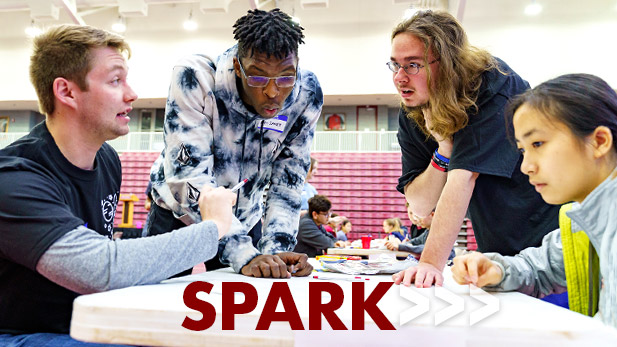 High school students can have fun collaborating with other teens on music-themed projects in a virtual fun-filled
SPARK!
event March 20, from 1-4 p.m., organized by Rose-Hulman students to stimulate youths' interests in science, technology, engineering, and mathematics.
The free event has been organized by the institute's Building Undergraduate Diversity (Rose-BUD) program to give high school students the opportunity to use creativity, problem-solving skills, and teamwork to complete activities.
SPARK stands for Student Projects Advocating Resourceful Knowledge.
This year's projects will involve music in a variety of ways, according to event organizer Audrey Walters, a junior electrical engineering student.
Teams with the best technical and creative designs, as determined by student judges, will win prizes provided by corporate sponsors Ford Motor Company, Halliburton, Collins Aerospace, and ArcelorMittal, along with the Rose-BUD program.
Students wishing to participate must
register online
by March 13.
The
Rose-BUD
program is a networking and professional development organization focused on increasing women and underrepresented group inclusion, specifically in the areas of Computer Science and Software Engineering and Electrical and Computer Engineering. High school seniors with approved applications for Rose-Hulman enrollment are eligible for Rose-BUD scholarships.