Mechanical Engineering Students Gain Honors, Scholarships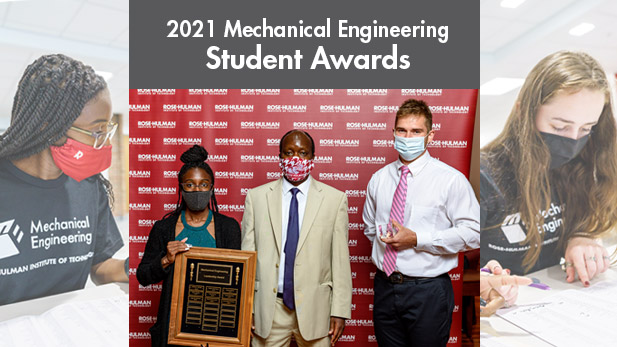 Several
mechanical engineering
students have earned recognition for their academic success, leadership, character, extracurricular activities, and potential for professional growth after a challenging 2020-21 academic year.
At this year's student awards ceremony Department Head
Richard Onyancha
noted that "we have all shown grit, resilience, empathy, and singular focus to excellence in all its facets and that is why we are here tonight to celebrate the end of academic year 2020-21 and the success of our students."
Among the seniors recognized were Sarozjani Hunter as the outstanding student leader and Josh Krsek as the Cummins Inc. Award as the most outstanding graduating senior.
Hunter, from Shiloh, Illinois, received the award that's based on student leadership, participation in extracurricular activities, citizenship, and demonstrated integrity and professionalism. She was a member of the inaugural Mechanical Engineering Student Advisory Board, an officer in Rose-Hulman's student chapter of the National Society of Black Engineers, and a four-year varsity letter winner in cross country and track.
Krsek is the graduating mechanical engineering senior who, in the opinion of the department faculty, possesses the most outstanding characteristics regarding scholastic achievement, extracurricular activities, character, responsibility, attitude, and potential for professional growth. The native of Knox, Indiana, has been a member of the student chapter of the American Society of Mechanical Engineers, completed a National Science Foundation-supported Research Experiences for Undergraduates program at the University of Alabama, and had other valuable design internship experiences.
Other Best of Class honorees were Michael Hall of Saint Paul, Minnesota, receiving the Robert Steinhauser Award as outstanding junior; Ji Qi, from China, as outstanding sophomore; and Therese Jaeger of Orland Park, Illinois, as outstanding first-year student. Steinhauser, a 1954 Rose-Hulman alumnus, served as ME department head for most of his 41 years as a professor at his alma mater.
Recipients of the John D. Winters Scholarship Award supporting junior students were JT Anstett, from East Aurora, New York; Lauren Hart, from Lebanon, Ohio; Ben Warrick, from Williamsport, Indiana; and Brannon Russell, from Scottsburg, Indiana. The awards are based upon financial need, technical ability, high moral values, and future leadership potential in the business world. Winters was a 1949 Rose-Hulman alumnus who had a distinguished military career before becoming a vice president with Caterpillar Inc.
E. Mark and Hui Suk Schulz Scholarship recipients were Douglas Dillon, a sophomore from Terre Haute, Indiana; Dawson Dunnuck, a senior from Columbus, Indiana; Emily Macak, a senior from West Terre Haute, Indiana; Kiana Martin, a sophomore from Portage, Michigan; Ian Quick, a senior from Robinson, Illinois; and Harman Singh, a sophomore from Ocean City, New Jersey. The 1976 alumnus and his wife established a scholarship fund to support students annually on the basis of having overcome several challenges to accomplish their thought-out professional goals.
Recognized for completing terms as members of the new Mechanical Engineering Student Advisory Board were Sam Alvares, a senior from Colorado Springs, Colorado; Ryan Foster, a sophomore from Carmel, Indiana; Ashley Shepherd, a senior from Pendleton, Indiana; Ben Wilfong, a senior from Boggstown, Indiana; and Hunter. This group has organized activities to promote the achievements of mechanical engineering students, faculty, staff, and alumni on campus, while also helping provide valuable student feedback to department leadership.
A recording of the awards program can be
viewed here
.