Competition Team Experiences Have Hosahatti Racing to the Future
Monday, November 29, 2021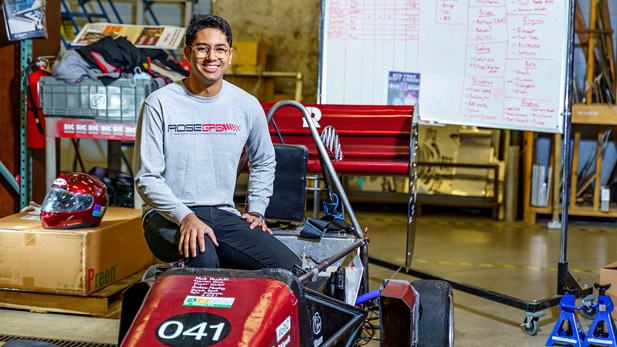 Nachi Hosahatti spent countless hours last spring leading the Rose Grand Prix Engineering team in putting together elements of its formula race car for the 2021 racing season.
Now the Fall 2021 mechanical engineering graduate is helping the professional-level Arrow McLaren SP team prepare to be a top competitor for the upcoming NTT IndyCar Series season.
Competition team experiences, multiple internships and long hours working in the Branam Innovation Center (BIC) supplemented Hosahatti's quality education at the nation's No. 1 undergraduate engineering college to open opportunities that have realized his motorsports dreams.
As a systems engineer he will help Arrow McLaren SP engineers and race strategists get maximum performance, as the Indianapolis-based team's cars compete in the Indianapolis 500 and other races across the country.
"This is the opportunity that I envisioned, but didn't think would be possible," Hosahatti says. "I spent two years reaching out to Rose-Hulman alumni across all forms of motorsports, just asking for a chance take my skills to the next level in racing. 
Alumnus Nick Snyder, Arrow McLaren SP's performance director, responded to Hosahatti's outreach and provided the inside track within the company. The veteran race engineer with several NTT IndyCar Series teams knows the challenges associated with getting a race-day job in motorsports.
Hosahatti is looking forward to contributing to one of racing's premiere teams, owned by Schmidt Peterson Motorsports and whose McLaren roots run deep within world-class Formula 1 racing.
"I'm ready to get in, learn and help wherever I can to make the team better every day," he says.
This is like the role Hosahatti had with Rose-Hulman's Grand Prix Engineering race team. In three years, he went from using computer assisted design software to create parts to helping fabricate carbon fiber body components to being technical director overseeing aerodynamics, suspension and chassis composition, along with vehicle testing for this past summer's Formula Society of Automotive Engineers' competition in Las Vegas.
"I came into the (Grand Prix Engineering) team not knowing much and came away with a wealth of hands-on experience," he remarks. "Really, this team and the BIC were instrumental in my time at Rose-Hulman. If I wasn't in class, I was working in BIC. It was my second home."
In fact, Hosahatti considers the BIC one of Rose-Hulman's hidden gems.
"(The BIC) is well-equipped and everyone is welcome to use it. It is a place that you can make things, some of them fail, but you learn from those mistakes," he says. "I owe the BIC a lot for what I learned at Rose-Hulman."
The Bangalore, India, native supplemented those on-campus opportunities with internship experiences in product development with American Axle and Manufacturing Holdings in Detroit and aerospace project design with Collins Aerospace in Cedar Rapids, Iowa.
Each step along the way, Hosahatti learned that teamwork and communication skills are as important as being able to design high-tech projects.
He says, "Being able to work and contribute within a cohesive team are invaluable and I'm sure that will be true in motorsports. The stakes are so much higher and the rewards so much more satisfying. I can't wait to experience them."