Alumnus Zack Johnson is Scoring Points in Esports Arena
Tuesday, December 14, 2021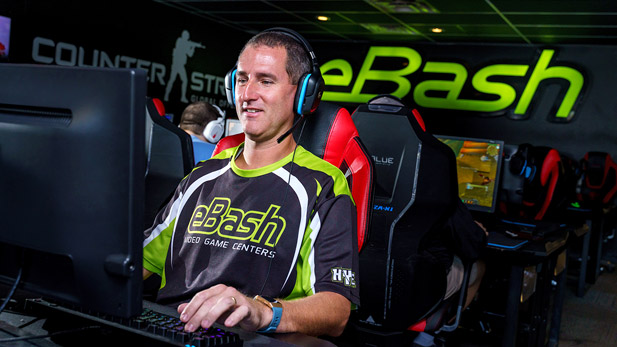 The competitive juices are still flowing for former basketball standout and 1998 mechanical engineering alumnus Zack Johnson, with a multitude of online entrepreneurial enterprises revolutionizing the way we play, do business and exchange currency.
His pantry of software services – all under the "gg" (Good Game) banner – has grown from meager beginnings in 2008 to connect esports gamers and centers around the globe, and is used by such enterprises as GameStop, Dell, Best Buy, and Lenovo as well as universities such as Ohio State, Syracuse, North Carolina, and, of course, Rose-Hulman.
The original ggCircuit product provides cloud-based management for Local Area Network centers, a tournament platform, and integrated wallet/point-of-sale solutions for enterprise customers.
Johnson's ggLeap uses leading-edge technology to connect more than two million unique gamers on tens of thousands of public gaming screens inside gaming centers worldwide. It became the first esports center management software to allow players to pay on screen with credit cards through a QR code.
And, now ggCrypto is providing center owners at 304 centers in 58 countries worldwide with a quick, easy to use and efficient way to mine cryptocurrency. The service reached more than $1 million within its first six months of operation – and continues to grow rapidly.
"Esports has come out of the pandemic strong," says Johnson, a member of the Rose-Hulman Athletic Hall of Fame after scoring 1,003 career points from 1993-96. Johnson is also a member of the institute's new Sawmill Society network of entrepreneurial alumni. "When COVID shut down gaming centers throughout the world, and put many of our competitors out of business, our software solutions kept us operational. Now, we've come out as one of the few survivors in the business and we're developing new areas to meet even more business opportunities." 
The business became so popular that it was acquired this spring by Esports Entertainment Group, an online gambling company seeking to become an esports and betting powerhouse. Johnson and his employees are now expanding and developing new "gg" services for clients.
In August, Esports Entertainment Group became the Indianapolis Colts' official esports tournament provider to host Esports Gaming League events. The relationship also will help enhance the Colts' reputation through brand promotions to esports players across a variety of online platforms.
"The popularity of esports continues to soar and we're excited to operate exciting, action-packed tournaments that we believe will be very popular with Colts fans and a fun way to compete in an entertaining and social environment with gamers throughout our fan base," says Colts Chief Sales and Marketing Officer Roger VanDerSnick, a 1985 mechanical engineering alumnus.