Nick Davis Appointed Director of Diversity and Inclusion Center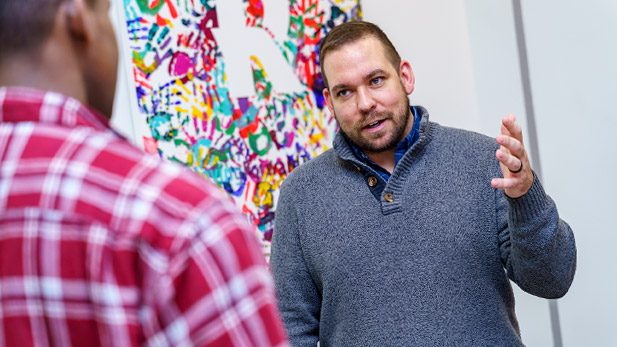 Nick Davis has been appointed as the director of the Center for Diversity and Inclusion. He has served in various capacities in the office since 2018, most recently as associate director.
The Center for Diversity and Inclusion promotes a campus culture where the individual's unique presence is valued, experience is respected, and everyone belongs. This is done by creating a diverse and inviting campus environment for all, providing diversity and inclusion education experiences, engaging in strategic outreach, supporting diverse audiences, and creating awareness and goodwill for Rose-Hulman across diverse communities.
"Nick has helped our campus community continue to better understand and appreciate the many aspects that promote a safe and welcoming environment for all," said President Robert A. Coons. "The Center for Diversity and Inclusion has played an important role on our campus since its inception, and that role will only continue to increase as we build out our new strategic plan in which diversity, equity and inclusion will be key components."
Davis helped organize the inaugural campus Cultural Fair and programs that provided diversity and inclusion education to students, faculty and staff. An alumni diversity panel discussed their time as underrepresented students at Rose-Hulman and the positive impact of diversity and inclusion initiatives in science, engineering and mathematics fields. He revised and enhanced Safe Zone education for the campus and encouraged students from underrepresented groups to become leaders of campus student organizations. He also serves as director of the new Rose Prime program in which invited first-year students get two weeks of mathematics instruction to help prepare them for a successful transition into college. 
Davis also has established strategic partnerships with the diversity, equality and inclusion offices at nearby Indiana State University and Saint Mary-of-the-Woods College, and represented Rose-Hulman on the Terre Haute Pride Center, Terre Haute Chamber of Commerce's Leadership Connect group, and Vigo County School Corporation's Diversity Committee. 
Davis earned a bachelor's degree in psychology from Lincoln Christian University in Illinois. He has travelled throughout the world to learn about diverse cultures, customs, and effective cross-cultural communications and barriers.