Three Alumni Named to Board of Trustees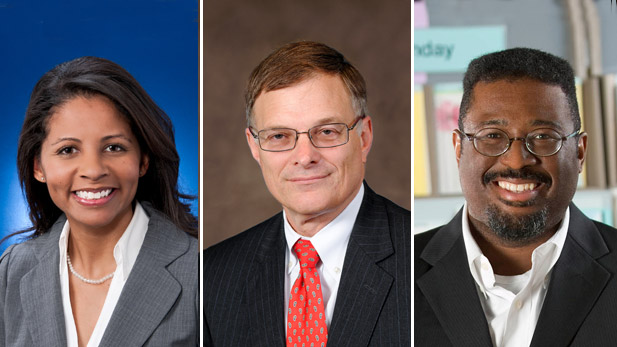 Three alumni who have become leaders in their career fields, each with an understanding and appreciation for the development of higher education strategies, have been appointed to the Rose-Hulman Board of Trustees.
Beginning terms as new trustees this spring are:
TONYA COMBS has been vice president and deputy general patent counsel with Eli Lilly and Company since early 2019. Previously, she was senior director and general patent counsel for the company's biomedicines business unit, and team leader and general counsel for the oncology business unit. Combs began her career in 2001 as a chemical engineer at Lilly Research Laboratories after earning a bachelor's degree in chemical engineering from Rose-Hulman. She received a law degree summa cum laude from Indiana University's Robert McKinney School of Law. Combs also serves on boards of the Indianapolis Children's Museum and Butler University, and previously served on the board of Tangram, Inc., a non-profit organization providing support for individuals with disabilities.
CHUCK SIGMAN is senior budget analyst in the Office of the Chief Financial Officer for the Office of Administration within the Office of the President of the United States. He has received several federal government honors for the formulation and execution of systems covering several areas of the White House. These include information services, financial management, data processing, records maintenance, and supply services. Sigman's expertise in technical matters comes from his Rose-Hulman chemical engineering degree, gained in 1980. His interest in finance developed from earning a master's degree in business administration at Indiana University. Sigman received the Rose-Hulman Alumni Association's Distinguished Young Alumni Award in 2000, formerly represented alumni on the Board of Trustees, and is a devoted alumnus of Rose-Hulman's Alpha Tau Omega fraternity chapter.
PAUL PALMER JR. II will begin a three-year term July 1, 2020, as alumni representative to the Board of Trustees, chosen by the Alumni Association's advisory board. The 1989 mechanical engineering alumnus and former Rose-Hulman football player is a professor of marketing with Indiana University's Kelley School of Business, and has earned a reputation as a leader in targeted marketing, licensing/partnership development and non-traditional marketing. Palmer has 30 years of experience in industry and higher education, and has had business and management success with Procter & Gamble Company, Hasbro Inc. and American Greetings Corporation. At Hasbro, he served five years as senior brand manager for Star Wars toy products, during the release of Star Wars Episode's I and II movies, and managed key licensor relationships with Lucasfilm, Walt Disney, and Cartoon Network.
Palmer will replace Jeffrey Myers, president of Big 4 Enterprises of Louisville, Kentucky, as alumni trustee representative. Still serving their terms are Ashvin Lad, vice president and co-founder of Breakwater Chicago in Illinois, and Jeff Papa of Zionsville, Indiana, who is chief of staff and general counsel for the Indiana State Senate.