Sonia Math Day to Show High School Girls the Fun in Math
Tuesday, January 28, 2020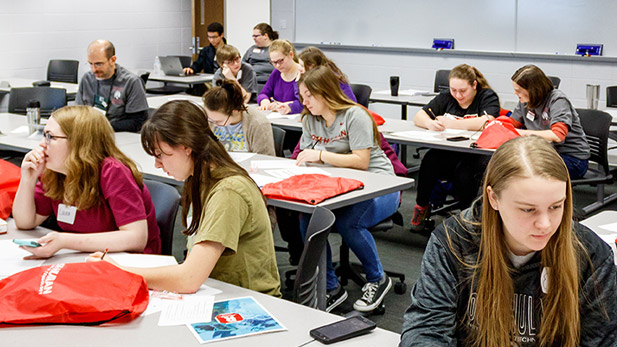 The role mathematics has in art, card games, video games, and other hobbies will be featured as part of a nationwide Sonia Kovalevsky Math Day for Girls event Feb. 22 at Rose-Hulman Institute of Technology. The event is intended to drive more interest from high school girls in math and problem-solving.
"Mathematics Hiding in Your Hobbies" is the theme of the free event, from 9 a.m. to 3:30 p.m., in Olin Hall classrooms O-157 and O-159 on the Rose-Hulman campus.
The Sonia Math Day is an effort to encourage women into mathematical sciences career fields. Kovalevsky was the first woman in Europe to earn a doctorate degree in mathematics.
Rose-Hulman's event has been organized by the Department of Mathematics and the student chapter of the Association for Women in Mathematics (AWM)
Activities will include girls learning how math and problem-solving are involved with origami, weaving, a variety of card games and part of building structures in Minetest, a Minecraft-like game.
There also will be discussions during lunch with AWM members and professors about careers and opportunities for women in science, technology, engineering and mathematics (STEM).
Rose-Hulman mathematics professors leading presentations and discussions will be Naomi Boulware, Bill Butske, Kyle Claassen, Josh Holden, and Manda Riehl.
Girls interested in participating in the event should be currently enrolled in or have taken a high school-level math course. Find out more about the event and register online at
www.rose-hulman.edu/SoniaMath
. Parents and girls with questions about the event can contact mathematics professor Tracy Weyand at 812-877-8446 or weyand@rose-hulman.edu.