Rose-Hulman Sees 10% Increase in New Students
Thursday, September 03, 2020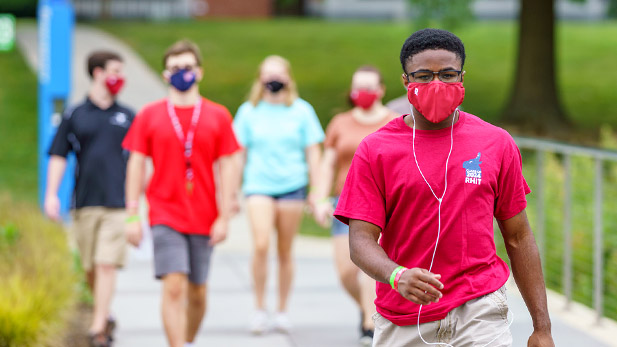 Rose-Hulman is starting the 2020-21 academic term with its largest class of incoming students in three years, and one that presents a strong academic profile to meet the engineering college's high academic standards. A total of 547 first-year students begin their college careers on September 3, the start of Rose-Hulman's fall academic quarter.
At the same time, the science, technology, engineering, and mathematics (STEM)-focused college continues to draw students from underrepresented groups and of a diverse geographical, racial, and ethnic background. The institute has a record number of African American, Hispanic and Asian students; increased its female enrollment by 20%; and attracted students from 38 states and eight countries, including big gains in Illinois. Three-quarters of students come from outside Indiana with significant enrollments from California, Texas, Ohio, and Kentucky.
Characteristics of the incoming class include:
• Median SAT math score of 710 and ACT math score of 31 places this class in the top 5 percent nationally.
• Second largest female class (145 students) in the institute's history and a 20% increase over last year.
• 33% of the students are racially diverse.
• 18% of the students are either first-generation attendees and/or Pell Grant recipients
"We continue to take major steps forward in meeting our strategic enrollment goals to recruit, educate and graduate high-achieving students who covet the world's best undergraduate STEM education that's aligned within our mission of personal attention and support," says Rose-Hulman President Robert A. Coons. "I'm most pleased that we were able to take these strides and recruit such a diverse student body within a challenging environment, impacted by the COVID-19 pandemic and increasing market competition."
Ninety percent of this year's incoming class made their final decision to attend Rose-Hulman after mid-March when public health concerns started to affect lives throughout the world. The school is ranked annually as one of the top engineering colleges in the U.S., with an average 90% retention rate and an average 98% placement rate of all students within six months of graduation.
"We quickly adapted our recruitment strategies to meet students where they were," says Tom Bear, vice president for enrollment management. "We added virtual tours, visits, videos, and other online services as part of our outreach. It was a team effort between faculty, alumni, coaches, current students, and staff to reach prospective students and make this a successful year."
Also helping attract this year's and future talented classes is the new
Noblitt Scholars program
, announced recently through a $10 million donation by alumnus/Board of Trustees chair Niles Noblitt and his wife, Nancy. The program brought 81 students to the 2020-21 incoming class.
Noblitt Scholars feature gifted students who have identified an area of interest or passion where they are seeking to make a meaningful impact, with a program mentor encouraging the pursuit of discovery, mastery, and leadership in those fields. Each scholar also will have the opportunity to participate in educational travel, mentoring, and leadership development workshops.
Rose-Hulman's Early Action deadline to apply for the 2021-22 school year is Nov. 1, 2020.
Start your application here
.