Pandemic Relief Brings Alumni Helping Hands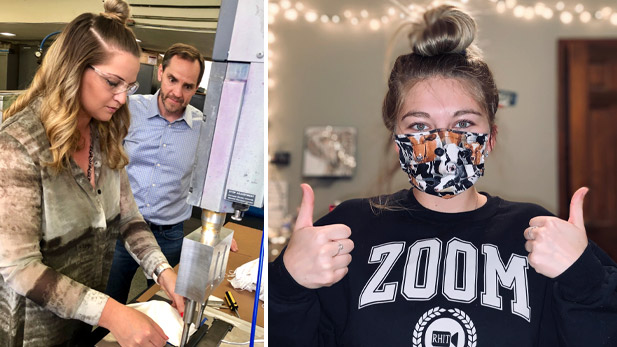 Rose-Hulman alumni continue to use technology, research knowledge, teamwork, and can-do attitudes to help the public address significant public health challenges.

Fred Blessinger and Rolf Alexis led an initiative to coordinate the recommissioning of General Motors Company's idled industrial and commercial property in Kokomo, Indiana, to meet the global backorder of critical care ventilators capable of supporting patients fighting the coronavirus.

GM formed a partnership with Ventec Life Systems in March to provide necessary supplies to health care facilities dealing with coronavirus patients through the federal government's Defense Production Act.

An existing three-story building at the GM Kokomo facility was selected and members of GM and Ventec worked around the clock to refurbish the building with the manufacturing and testing capacity to meet the urgent need for more ventilators. Production was ready within 30 days, with a goal to provide 6,000 ventilators by June 1. Manufacturing capacity is planned to be at a rate of 10,000 per month by August.

Blessinger, a 1986 mechanical engineering graduate, is an operational excellence leader at GM's Kokomo operations while Alexis is a senior engineer for the company's global facilities. The 1989 chemical engineering alumnus specializes in tackling organizational and technological challenges, including lean manufacturing machining and assembly operations.

Meeting a Community's Need
Another massive transformation took place early this spring inside North America's largest convention center, McCormick's Place in downtown Chicago. Sections of its flexible-use space became an alternative care medical facility for non-critical patient hospital overflow, in preparation of an expected surge of coronavirus patients at Chicago-area hospitals. The facility was available throughout April.

Brett Olson, a 2003 mechanical engineering alumnus, assisted colleagues of Jones Lang LaSalle (JLL) commercial real estate services leadership team to work with the U.S. Army Corps of Engineers, Federal Emergency Management Agency, Chicago and Illinois governmental officials to create 1,000 beds for patients.

Olson used his experience in managing hospitals, commercial office buildings, federal buildings, and retail spaces to help JLL get ancillary services ready to handle the project's numerous technical and operational requirements. These included mechanical, electrical, plumbing operations, janitorial service, biomedical equipment maintenance, and security services.

Chicago Mayor Lori Lightfoot and Illinois Governor JB Pritzker marveled at the speed and teamwork that went into the project. In a joint statement, they stated: "We thank all our dedicated partners for their hard work and partnership in creating one of the nation's best operating and largest alternate care facilities."

A JLL employee since 2006, Olson is an account lead in the company's general services administration, after being vice president of regional facilities and managing operations, sustainability and energy projects. He specializes in driving collaboration to deliver customer services and efficient property management.

Kerns Helps Clear Air for Mask Makers
Shannon Kerns' role as sales and marketing director shifted to becoming a valuable community servant when Fiber Bond Corporation's facility in Michigan City, Indiana, converted a portion of its air filtration product manufacturing capacity to produce sterile masks. The items were provided to company employees and their families, along with Northwest Indiana hospital workers, to help protect them and those they come in contact with during the pandemic.

Kerns, a 2000 civil engineering alumna, also collected excess Fiber Bond filtration media for distribution as inserts in masks created by local sewing groups and home seamstresses. One of the happy recipients was her sister, Kristy Unton, wife of 2002 computer science alumnus Chris Unton of Indianapolis. Kristy Unton made more than 100 specially designed masks for friends and family members. One mask was made for Kayla Harding, a first-year civil engineering student and younger sister of Shannon and Kristy.

Doctors Helping Others and Themselves
Rick Henthorn's call to service as a veteran medical professional has had him working overtime to help patients in the Cincinnati, Ohio, area dealing with the effects of the coronavirus. Henthorn, a 1973 bioengineering alumnus, specializes in cardiac electrophysiology. That knowledge and expertise has been very helpful during the pandemic.

"In my opinion, Rick is a true hero," says 1973 classmate and longtime friend George Rodibaugh. "He could have retired four years ago, like the rest of us. Instead, he's still saving lives. He's an honorable alumnus without a peer."
Moravec Recovers, Helping Others
As an emergency medicine assistant, Katherine Moravec was helping patients deal with the effects of the coronavirus outbreak until she contacted the disease herself. "I did not have to be hospitalized, am working on getting back to strength, and have returned to work," reports the 2014 chemical engineering alumna. She has worked at Vidant Medical Center in Greenville, North Carolina, after earning a medical degree in 2018 from the Indiana University School of Medicine.

"I don't consider myself a hero, but I am on the frontlines," she says.
---------------
We would like to share stories about other alumni and their efforts. Send details to alumniaffairs@rose-hulman.edu or dale.long@rose-hulman.edu.