Opportunities Await Class of 2020 with 90% Placement Rate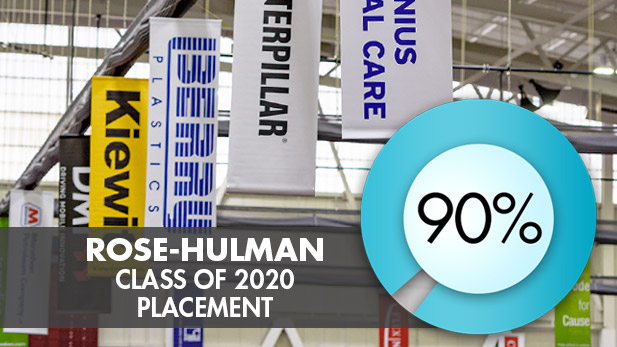 After earning diplomas in science, engineering, and mathematics fields, 90 percent of Rose-Hulman's Class of 2020 are preparing to begin their professional careers, postgraduate education studies, or leadership ranks within military service.

Career placement continues to be a hallmark of Rose-Hulman's education, and the current rate is in line with past graduating classes. This comes despite today's ever-changing economic conditions in the wake of the COVID-19 pandemic and global market challenges.

"We've come to expect an outstanding placement rate for our graduates year in and year out," says Rose-Hulman president Robert A. Coons. "However, in this time of economic uncertainty, this news only reinforces the value and return on a Rose-Hulman education. Employers hire our graduates because of the exceptional education they receive at Rose-Hulman, which prepares them to make an impact from day one. We anticipate still reaching our typical high 90s placement percentage by the final November reporting date."

Employers and graduate schools included SpaceX, Apple, Lockheed Martin, Microsoft, Caterpillar, Eli Lilly and Company, Amazon, Google, Brown University, Johns Hopkins University, and Cornell University. A computer engineering major is starting with a $150,000 salary, an all-time high entry-level salary for any previous Rose-Hulman graduate.
"Graduates with skills in science, technology, engineering and mathematics (STEM), especially those creative problem solvers from Rose-Hulman, are still in demand by employers," says Scott Tieken, Rose-Hulman's director of career services and employer relations. "(The remaining) jobseekers among our Class of 2020 are actively interviewing with prospective employers."

Find out more about the secret behind Rose-Hulman's placement success.

Rose-Hulman's 2020 placement rate covers all 461 students receiving bachelor's and master's degrees during the May 30 virtual commencement ceremony. The Office of Career Services tracks every prospective graduate through each school year, and staff members work vigorously with students within each academic major about possible employment opportunities. Career and graduate school fairs, along with online services, put students in contact with more than 500 companies and graduate schools annually. Individual and group sessions review students' resumes, offer interview tips and etiquette skills, and provide advice when examining job offers. This year's spring career fair, which was moved to a virtual event, had an all-time high number of companies attend.

"We track every student from the first day of each school year until a satisfied placement option is obtained," Tieken said. "Some years are more challenging than others and this year was certainly filled with its share, especially in the spring."