Niles and Nancy Noblitt Give $10 Million to Boost Student Recruitment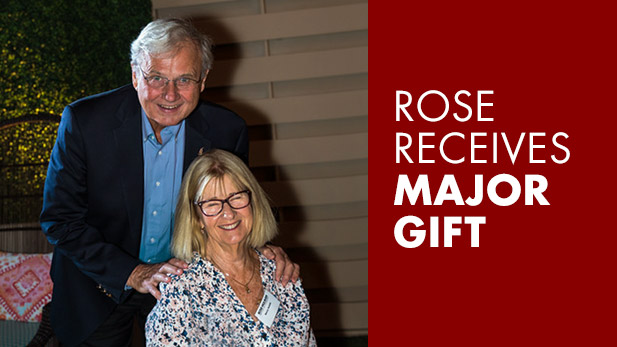 Chairman of the Board of Trustees Niles Noblitt and his wife, Nancy, have made one of the largest financial contributions to Rose-Hulman in institute history.

The Noblitts have donated $10 million to aid in student recruitment aimed at ensuring the nation's top students continue to attend Rose-Hulman and gain the skills they need to make a positive impact after graduation.

"Our goal is to give back to the institute so it can continue to attract the very best students," said Niles Noblitt, who has been a leader in the medical device field since graduating from Rose-Hulman with a degree in biological engineering in 1973. "Nancy and I want the institute to continue to draw gifted students who are leaders and whose immediate contributions will make a difference on campus and in the world."

After graduating from Rose-Hulman, Noblitt co-founded Biomet, Inc., a Warsaw, Indiana-based biomedical device company now known as Zimmer Biomet. He joined its board of directors in 1977 and became chairman of the company from 1986 until his retirement in 2007. his work includes developing total joint prosthetic devices and processes that continue to have significant usage, with thousands of patients worldwide continuing to benefit from those products and the production processes he helped to establish. He remains active in the medical technology industry, currently serving as chairman of the board for MedShape, Inc., a leader in foot and ankle orthopedic devices based in Atlanta, Georgia. He is also a former board member of NICO Corporation, an Indianapolis-based pioneer in minimally invasive methods of brain surgery.

"This generous gift from Niles and Nancy only helps to strengthen the position of Rose-Hulman as the premier educator of students in the STEM fields globally," said Rose-Hulman President Robert A. Coons. "We'll be announcing exciting details at our August 27 opening symposium about the programming this gift will help support as envisioned by the Noblitts, which is sure to further distinguish Rose-Hulman from other institutions of higher learning."

The Noblitts have previously established, and continue to support, a student scholarship fund at Rose-Hulman. Niles Noblitt received an honorary doctorate in engineering from Rose-Hulman in 1996 and was named chairman of the Board of Trustees in 2018.