Mechanical Engineering Honors Students for Talents, Aspirations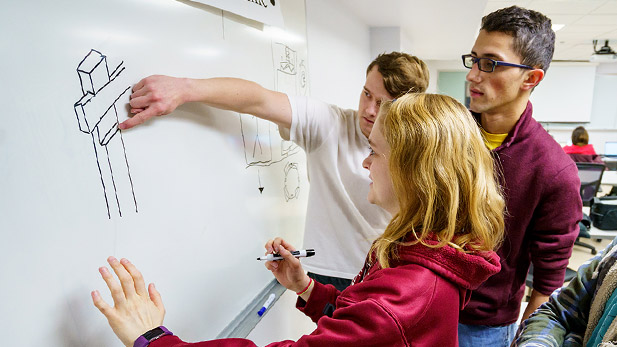 The Department of Mechanical Engineering has recognized 15 of its students for scholastic achievement, personal skills, involvement in extracurricular activities, overcoming challenges, and potential for professional growth. The awards were announced by department head Richard Onyancha after review by the area's identity/awards committee and selection by faculty members.

Peter Garnache received Senior Student Leadership Award for exemplary leadership and organizational skills during group projects, including the senior capstone design course. Professors have frequently commented upon his attributes as a team builder, decision-maker, risk-taker, and a strong communicator. The Wheaton, Illinois, native has worked on a variety of projects during internships with Caterpillar Inc. and Rose-Hulman Ventures, and as a member of the Robotics Team. He also has been president of the Rose Innovative Student Entrepreneurs organization.

Meanwhile, Gabbie Gilbertson of Honey Brook, Pennsylvania, earned the Cummins Outstanding Senior Student Award. She has demonstrating department and campus leadership with Team Rose Motorsports, Engineers for a Sustainable World, varsity volleyball and track teams, Chi Omega sorority, AskRose homework hotline, and Best Buddies groups. Gilbertson also has had internships with Chrysler and Hochschule Esslingen.

The Edward A. MacLean Award went to senior Kevin Ferguson, a native of Plainfield, Illinois, who also is majoring in mathematics. The honor recognizes a student who annually excels in mechanics courses, is active in extracurricular activities, and has demonstrated academic improvement throughout college. MacLean was a distinguished professor and head of the Department of Civil Engineering, and the award presentation rotates between the mechanical and civil engineering areas.

Sarozjani Hunter of Shiloh, Illinois, received the Robert Steinhauser Most Outstanding Junior Mechanical Engineering Student Award. She has learned skills in the department's machine shop, been an officer of the student chapter of the National Society of Black Engineers, and competed as a varsity track and cross country student-athlete. Steinhauser, a Rose-Hulman alumni, served as ME department head for most of his 41 years as a professor at his alma mater.

Other outstanding student awards, by class, were presented to Ethan Ellis, a sophomore from Aurora, Ohio; Ryan Foster, a first-year student from Carmel, Indiana; and Joseph Lahmann, a first-year student from Richmond, Indiana.

John D. Winters Scholarships were presented to Arrick Harbaugh, a sophomore from Dugger, Indiana; Ashley Shephard, a junior from Pendleton, Indiana; and Cassie Utley, a junior from Danville, Indiana. The awards are based upon financial need, technical ability, high moral values, and future leadership potential in the business world.

Mark Schulz Scholarship recipients were Curtis Bedwell, a sophomore from Sullivan, Indiana; Abby Carrell, a senior from West Terre Haute, Indiana; Boyang Chen, a junior from Terre Haute, Indiana; Sarah Cunniff, a first-year student from Saint Paul, Minnesota; and Adam Sturgeon, a junior from Monticello, Indiana. The alumnus established a scholarship fund to support five students annually on the basis of having overcome several challenges to accomplish their thought-out professional goals.