Larry Cole Has Athletes, Teams Off and Running to Track Success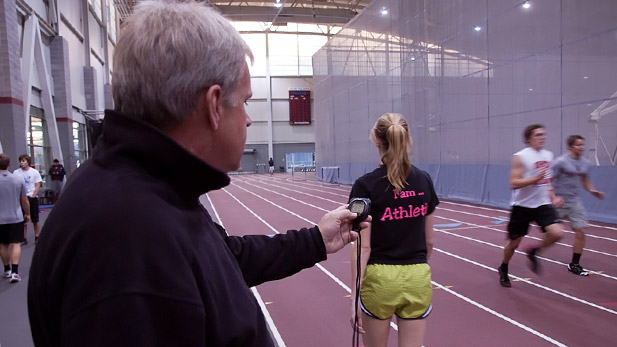 Larry Cole is redefining the familiar Indiana moniker "Larry Legend," based upon the success achieved as head coach of Rose-Hulman's championship-level track and field program.

The men's team won the Heartland Collegiate Athletic Conference's indoor championship for the 10th consecutive year. This year, the Engineers' victory margin nearly doubled the second-place team (204 to 108). And, they're the favorites to win the conference's outdoor championships this spring. After all, they have captured the last 12 of those titles as well.

The women's team, which Cole also coaches, has earned four conference championships, including the program's first outdoor team title in 2018.

That's why Cole has been recognized by peers as the HCAC Track & Field Coach of the Year a record 25 times since 2008 – 21 for the men's team and four for the women's squad.

Regarded as one of NCAA Division III's finest meet directors, Cole's efforts helped Rose-Hulman land the hosting role for the 2007 and 2009 Indoor Track and Field National Championships. His efforts were also instrumental in Rose-Hulman securing the 2012 and upcoming 2020 national cross country championships at the nearby LaVern Gibson Championship Course.
HCAC Commissioner Jay Jones is just one of the many people who appreciate Cole and his remarkable program accomplishments, stating "Larry Cole is an amazing ambassador for Rose-Hulman and the HCAC. His competitive success is no doubt impressive and speaks for itself, but it only takes attending one event that Larry administers to understand his deep caring for the sports he loves and the level of excellence he works to obtain. Those of us around him, including his peer coaches in the HCAC, are transformed and made better by Larry."

Jones continues, "To me, one gauge of a great educator and coach is the ability to inspire their student-athletes to want to grow and be better. Larry is the rare individual that can provide that same motivation to the other coaches and administrators too. Put simply, we are all better because Larry has been a part of our conference."

Cole has helped Rose-Hulman student-athletes earn 20 All-American honors and five NCAA Division III national championships since he became coach in 2004. His squads also have produced 12 Academic All-Americans.

Cole humbly gives credit to his personal success to Rose-Hulman's hard-working student-athletes and dedicated assistant coaches. This coaching staff includes Geoff Wayton, distance runners and sprint relays; Christy Sherman, throwing events; and Liz Evans, jumping events.

Cole returned to coaching after a brief stint as a high school athletics administrator, succeeding legendary Rose-Hulman track and cross country coach Bill Welch. Cole led the men's and women's cross country programs until 2013. He formerly coached at Ohio Northern University and Muskingum College (Ohio), where his programs produced numerous league champions and All-Americans. He was named the Great Lakes Region men's and women's Coach of the Year in 1996 and served as meet director for the 1995 NCAA Division III Indoor Track and Field Championships.